Stand-up paddle board hire on Windermere
What is stand up paddleboarding? 
Stand up paddleboarding first became popular around 2014, and was originally an off shoot of surfing. We don't get many surfable waves here in the Lake District so paddleboarding is the perfect way to explore Windermere.
We may be biased, but Brockhole on Windermere is the best place to paddleboard in the Lake District. Located in the northern basin of Windermere, between Bowness and Ambleside, there is so much to explore with the Langdale Pikes and Fairfield horseshoe as your backdrop. 
What you'll need for paddleboarding
Board and paddle*
Buoyancy aid*
A brief instruction before hire*
Clothing and footwear you don't mind getting wet, we advise not to wear denim as we don't want you getting cold!
Hot weather - suncream and a bottle of water
Cold weather - warm clothing and a change of clothes
We suggest bringing a mobile phone in case of emergencies
A waterproof jacket and trousers would also be recommended 
*We provide these within the hire price.
Stand up paddleboarding is a great way to get active on Windermere. Our friendly lakeshore team will help you make the most of your paddleboard hire. We will teach you the basics of standing up, balance, as well as falling off and getting back on.
Hire Prices
1 person for 1 hour: £17.50
Book a paddle board. Age 14+ only.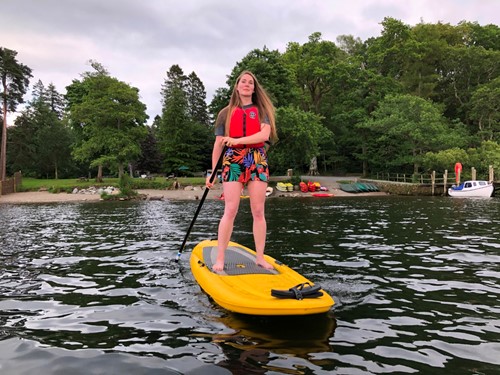 Here are a few tips before your visit
How to stand up on your stand up paddleboard
Stand alongside the board in shallow water - our calm lakeshore is the perfect place to learn.
Hold the edges of the board and work your way onto the board in a kneeling position, just behind the centre point of the board. The centre of the board is where your carry handle is.
Keep your hands on the sides of the board to stabilize it, then move one foot at a time to place your feet where your knees were in the centre of the board.
Begin to stand up. Start by raising your chest up while keeping your knees bent. Once your chest is vertical, extend your legs to stand up.
Staying balanced on a stand up paddleboard
Once you're standing, here are a few tips to maintain your balance:
Position your feet so they are parallel, about hip-width apart, and an equal distance from both edges of the board.
Keep your toes pointed forward, knees slightly bent and your back straight.
Keep your head and shoulders steady and upright.
Look forward into the distance. Avoid staring at your feet.
How to hold a stand up paddleboard paddle
To get the most out of paddleboarding at Brockhole it's important to hold your paddle the right way:
Make sure the tear-drop-shaped blade of the paddle angles away from you and toward the front of the board.
When you're paddling on the right side of your board, your left hand will be on the T-grip and your right hand a few feet down on the shaft. When you switch sides, reverse your hand positions.
Falling and getting back on
Despite your best efforts to stay balanced on your board, you may end up falling in. Even our experienced lakeshore paddlers take the plunge from time to time, so if you're feeling a little wobbly, don't worry about it and remember that paddleboarding is a watersport, so it's okay to get wet.
For those times when you go for a swim in Windermere:
Fall to the side, so that you fall into the water and not onto the board. Falling onto the board is more likely to cause an injury.
Try to hang onto your paddle while falling. If you get separated from it, retrieve your board first and get back on, then paddle with your hands to get the paddle.
To get back on your paddleboard after falling off:
Position yourself at the side of your board and near the centre.
Grab the handle at the center of the board with one hand.
Kick your legs while pulling on the handle to slide yourself onto the board.
Weather Limitations
With the Lake District National Park being our home we have our fair share of bad weather. Throughout the year the wind picks up to an unpleasant level and we have to cancel hire for the day. Please check the weather forecast or ring us before setting off to Brockhole on Windermere to avoid disappointment.
Please note we cannot guarantee a parking space in our car park, so please leave plenty of time to park elsewhere (details here) but we try to give priority to those pre-booked onto an activity.