Enjoy a Lake District Kayaking adventure on Windermere
In partnership with Cumbrian Kayaking, we are offering you the chance to explore the Lake in the best way possible - from on the water.
Places are limited to 8 per session, this is one of those life-enhancing experiences that will not disappoint, book early to avoid disappointment. 

£45 for a half-day session - including packed lunch and all equipment provided
Morning Tour: 9.30am (please arrive 15 minutes before the session)
Afternoon Tour: 2.00pm (please arrive 15 minutes before the session)
Places are limited (8 per session) so please book early
Kayak Tours are bookable at Brockhole during all the main school holidays. Private bookings can be made direct with Cumbrian Kayaking at Brockhole and other locations on other dates. The National Park Authority benefits from these bookings, which helps us look after the National Park
The Lakes are absolutely beautiful at this time of year, in particular, the northern shore of Windermere. The views of Wansfell, Loughrigg, Claife heights and Scandale horseshoe are always amazing, but you have not seen them in their full glory until you have seen them from the water in a kayak. No crowds of tourists, no sound of motors, just you, your paddle and that view!  If any experience at Brockhole can lift the spirits and get the heart pumping at the same time – this is the one!
Our tours last a full half-day (about 2.5hrs of paddling) 
You'll be paddling with Mike Tracey, the owner of Cumbrian Kayaking and a very experienced and qualified paddler in Lake, Estuary and Sea. As an ex British Antarctic Survey Guide, with over 40 years' experience and great knowledge of the mountains and lakes, Mike can give you an insight into paddling and the Lakes like few others can. 
You will be provided with a 15ft touring-sea kayak, buoyancy aid, paddle, spray deck, safety helmet and cagoule. You can bring your own wetsuit or hire one from Brockhole (just £5) or wear casual sports clothing you don't mind getting wet – trainers or deck pumps recommended - please bring a change of warm clothing for afterwards.
Suitable for 12yrs and upwards 
No previous experience required but a reasonable level of fitness and mobility required, perfect for first-time kayakers!
Pre-booking is required
No cancellation possible within 48hours of the activity starting
We will only cancel in the event of extreme weather conditions (please note - raining is not an extreme weather condition)
For safety reasons, the advertised route may be subject to change should adverse weather or any other unforeseen circumstances deem an alteration necessary. Customers will be advised on the day should this be required.
Private group booking and bookings made outside of the holiday period can be made directly with Cumbrian Kayaking, contact him through Cumbrian Kayaking's contact page or call Mike on 07740477364. The Lake District National Park still benefits from private and out-of-season bookings.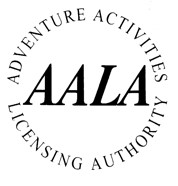 Adventure Activities Approved 
Learn how to kayak properly with Mike
"A brilliant day kayaking with Mike. We are a family of 4 with varying abilities on the water and Mike provided a challenge for all of us. If you are on holiday in the area this activity is a MUST. 10/10" Andrew
"We are a family of 4 ( two teenagers age 17 and 15) and we pre-booked the Kayak Tours with Mike thinking it would be better to be instructed rather than spend one hour on the lake doing our own thing and we were not disappointed. We are all novices when it comes to Kayaking and MIke made us feel at home right from the start. It was an excellent introduction to Kayaking actually enjoying learning different techniques and completing different exercises that Mike set testing our understanding. It was so much better learning about Kayaking rather than getting bored after 30 minutes aimlessly paddling around the lake. I would certainly recommend this activity to anyone visiting the area as we all enjoyed Mike's knowledge including the children who found the whole experience enjoyable and that's saying something for two teenagers!! Thanks Mike a really enjoyable morning." Robert Fletcher
Please note we cannot guarantee a parking space in our car park, so please leave plenty of time to park elsewhere (details here) but we try to give priority to those pre-booked onto an activity.