Come along to Brockhole, The Lake District Visitor Centre for a great day out whatever the weather! Find us on the shores of Windermere.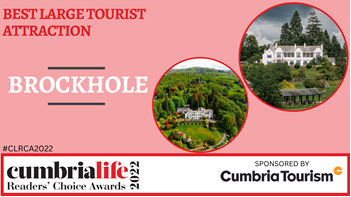 *Please note, we no longer have a soft play area*
There are lots to do for all the family and plenty to eat and drink. We have a range of services and facilities to help make Brockhole as accessible as possible for everyone, including visitors with disabilities. We welcome well-behaved dogs on leads.
Free parking for locals (Selected dates only)
Parking charges usually apply at our pay and display car park. However, if you are local and live within one of our key catchment areas, you can get a free parking pass on selected dates. One day passes can be picked up on the day. Learn more here. 
Pre-booking
If you are experiencing issues with our booking system, please contact us on 015394 46601. 
To avoid disappointment, please pre-book activities in advance of arrival. We can not guarantee availability on the day. For booking, see Activities and Events or call 015394 46601. 
Cancellations
We have a 48 hour cancellation policy (apart from Halloween Passports which is 7 days). If you cancel your booking before a 48 hour notice period of the activities start date you are entitled to a refund. No refunds will be given if it is less than 48 hours before your activity was due to take place. If your cancellation falls before a 24 hour notice period of the activities start date your booking can be rearranged but not refunded. No refunds will be given due to rain or bad weather unless we cancel the activities ourselves due to extreme weather such as extreme wind and thunder. 
Staying safe at Brockhole 
For us, it's important that we remain mindful of our customers' and colleagues' continued safety and well-being. With that in mind, we wanted to reassure you that while the wearing of masks is no longer mandatory, we support those who still decide to wear one and encourage others to respect their decision to do so.


We would also like to mention that it's been a tricky few years for everyone and we wanted to say thank you for all your continued support and kind wishes. You've supported us through all the varying restrictions that have been thrown our way and come rain or shine, we have appreciated seeing you. 
For help planning your visit, please call us on 015394 46601 or fill out our quick online contact form.
Blue-green Algae
There may be blue-green algae on Windermere which can be harmful to dogs and humans. Please be careful when swimming/paddling in the lake. 
What others say
"Glad to see more events and activities happening at Brockhole...There is something for everyone."
"Disabled access is great."
"We all enjoy coming and the children love the playground."
99 per cent of people said they would recommend us to family and friends.

- Recent customer survey
We would love to hear how you enjoyed your visit to Brockhole - post a Trip Advisor review!