Kayak hire on Windermere
Please note, Ages 14+ to go on a single, anybody under 14 can go on a double or triple provided that one of the passengers is 14+.
Why choose kayaking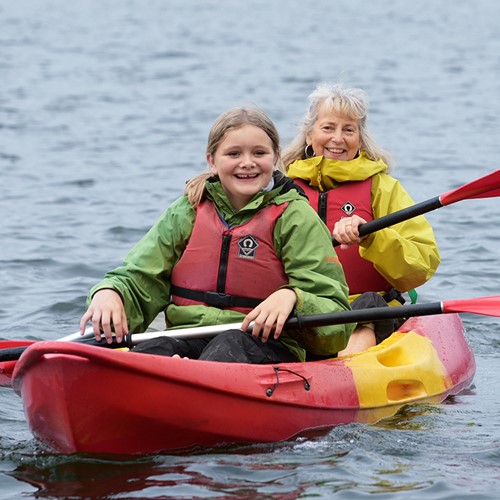 Kayaking has been popular in the Lake District for years. Our sit on top kayaks are perfect for beginners and experts alike as they allow a stable, simple way to explore Windermere.
With stunning views and plenty of bays to explore, Brockhole on Windermere is the best place to go kayaking in the Lake District. Located between Ambleside and Bowness, you can escape the crowds to explore the lake in safety.
What you will need for kayaking
Kayak and paddle(s)*
Buoyancy aid*
A brief instruction before hire*
Clothing and footwear you don't mind getting wet, we advise not to wear denim as we don't want you getting cold!
Hot weather - suncream and a bottle of water
Cold weather - warm clothing, a change of clothes and extra snacks
We suggest bringing a mobile phone in case of emergencies
A waterproof jacket and trousers would also be recommended 
*We provide these for you.
Kayaking is an easy way to explore Windermere at your own pace. Our friendly lakeshore team will help you enjoy your kayak hire. We will teach you the basics of balance, paddling, as well as falling off and getting back on.
Please book in advance to guarantee availability.
Kayak hire prices
Single kayak (1 person) for 1 hour: £17.50
Double kayak (2 people) for 1 hour: £27.50
Triple kayak (2 adults and 1 child) for 1 hour: £32.50
Please note, Ages 14+ to go on a single, anybody under 14 can go on a double or triple provided that one of the passengers is 14+.
Our two top tips for kayaking
Before your visit here are two top tips so you can go further on Windermere:
1) Sit properly. Learning how to sit properly in a kayak makes it so much easier when you start paddling. Your sit on top kayak will have a nice backrest but don't slouch. It's best to sit up straight with your lower back and buttocks at 90 degrees to each other.
You'll find foot pegs on each side of your kayak. Put your feet here. Your toes should be pointed outwards and heels towards the centre. Your knees should be bent upwards and outwards.
2) Hold the paddle the right way. This might sound obvious but we've seen plenty of people holding their paddle the wrong way when learning to kayak. Hold the paddle with both hands just over shoulder distance apart. Make sure the concave part of the blade is facing you. When you dip the paddle blade into the water, the concave part should sweep through the water. Check your knuckles are in line with the blade.
Weather Limitations
With the Lake District National Park being our home we have our fair share of bad weather. Throughout the year the wind picks up to an unpleasant level and we have to cancel hire for the day. Please check the weather forecast or ring us before setting off to Brockhole on Windermere to avoid disappointment.
Please note we cannot guarantee a parking space in our car park, so please leave plenty of time to park elsewhere (details here) but we try to give priority to those pre-booked onto an activity.