Book now
Treetop Nets
Price: from £13 to £20 per person
More than 1,500 metres of giant trampolines, walkways, slides and tunnels made out of netting.
All safely suspended between trees up to 9 metres off the ground!
Who can do it?
Anyone from 3 years upwards so it's very family-friendly. No experience or skill is required, just a 'have a go' attitude.
How much is it?
Depending on your age, prices range from £13 to £20 per person:
3 - 4 years £13
5 years and upwards £20
Supervising adults £13
There are also special prices for groups and schools.
Check out the video!
How long can we play for?
Prices include unlimited play for up to two hours. All first time participants attend a short safety briefing
More information and how to book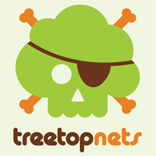 We recommend that you book online to avoid disappointment (opens in new window) any commission from ticket sales goes towards keeping the National Park special!
Alternatively, please call 015394 47186.
Prioritised Parking - at busy times we prioritise car parking for those holding pre-booked activity tickets that were booked before arrival on site. Please show your paper ticket or on-line confirmation to the parking attendant. We do not prioritise parking for activities not booked before arrival and we always require the valid paper ticket or on-line confirmation.