Book now
Treetop Trek
Price: from £18 for children and from £22 for adults
Swing, climb, balance and fly your way through 250 year old oak trees.
There are 35 exciting treetop challenges including aerial obstacles like rope bridges and wobbly logs. It finishes with an amazing 250 metre triple zip from the 14 metre high Treetop tower to the shoreline. Race your friends to the finish line!
What are the options?
Climb and Zip for 5 year olds and up - takes approximately 30 minutes
Mini Trek (Green Trek plus triple zip) for 5 year olds and up - takes approximately 1 hour
Full Trek (Green Trek plus Blue Trek plus triple zip) for 7 year olds and up - takes approximately 2 hours
What experience do I need?
No experience or skill is required, just a reasonable level of fitness and a 'have a go' attitude.
You are always in view of qualified instructors. There is a continuous belay system so that once fastened into a harness by an instructor you remain secured to a rope at all times.
How much is it?
It depends on your age and which course, but prices start from £21 for children and £25 for adults.
More information and how to book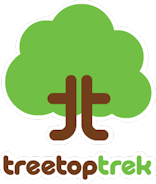 We really recommend that you book online early to avoid disappointment (opens in new window) any commission from ticket sales goes towards keeping the National Park special!
Alternatively, call 015394 47186.
Please note we cannot guarantee a parking space in our car park, so please leave plenty of time to park elsewhere (details here) but we try to give priority to those pre-booked onto an activity.