Event Ended
St John's Hospice Sunflower Appeal at Brockhole on Windermere
Date: 2-31 August 2021
Brockhole on Windermere and the Lake District National Park are delighted to be able to offer a venue and support to the St John's Hospice Sunflower Appeal this summer. St John's provide invaluable hospice care for North Lancashire and South Lakeland.
Throughout the month of August you will be able to see 500 beautifully crafted metal sunflowers as an art installation in the gardens at Brockhole (another 500 will be at Lancaster Castle), and these sunflowers can be purchased in advance through St John's for £35 (see details below), with the vast majority of that income going directly to support their fantastic hospice care.
You will then be able to pick up one of the beautiful sunflowers at the end of August and know that you have supported this vital hospice care for South Lakeland and North Lancashire.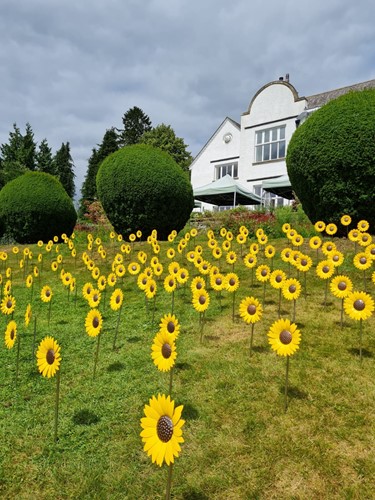 In addition to this, and to support the appeal, Brockhole are launching their new Giant Minibeast Hunt at Brockhole from the end of May just in time for the half term holidays. In this fun and fascinating brand new trail, you hunt for 12 giant minibeasts made completely out of willow (some up to 2m wide) by Willowpool Designs, which are hidden around the site. You can complete the fun activity sheet and learn about their real minibeasts counterparts.
The prize for completing the hunt successfully is a free packet of sunflower seeds, provided courtesy of Hayes Garden Centre and Thompson and Morgan.
Thanks to this hugely generous support from Hayes and Thompson and Morgan for the trail and the appeal, for every Giant Minibeast Hunt purchased at only £3, Brockhole will contribute 30p directly towards the St John's Hospice Sunflower Appeal.
Brockhole are then running a competition for the best photo of you with your sunflowers once they have grown. This is not about the biggest or best sunflower, but the best photo to lift all of our spirits  - just like looking at a sunflower!
Something to smile about this summer!