Event Ended
The Brockhole Halloween Experience
Date: 21-29 October 2023
The Brockhole Halloween Experience 
Oct 21 - 29, 2023
9am-5pm (Activities open at 10am)
The scariest thing is missing out
#BrockholeHalloween
NEW activities for 2023 include, Axe Throwing, new Haunted Forest, Tipi of Terror, Arachnid Assault, Spooky Pet Encounter and 
Laser Tag in the Wood.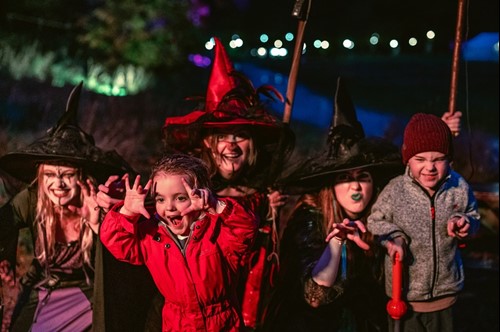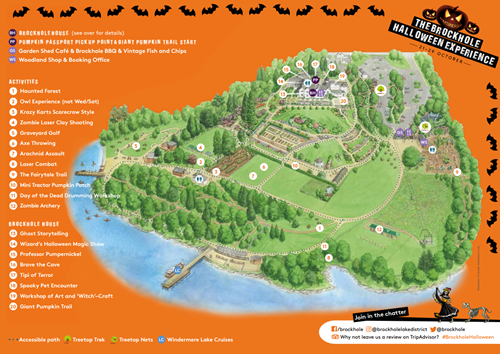 Halloween spookiness will once again descend on Brockhole this October and this year the Haunted Forest has really come to life! 
The biggest and best Halloween Experience in the Lakes just keeps getting better - keep reading to discover how we're making it the best Halloween Experience the Lake District has ever seen!
Remember, the only thing you should be truly scared of is missing out...
The Pumpkin Passport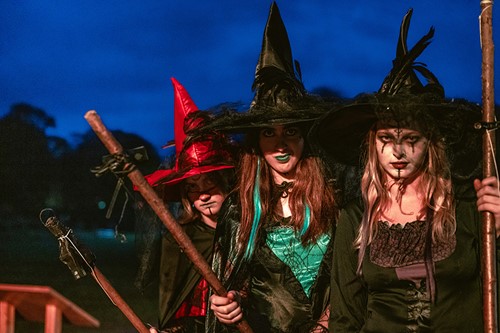 Price - £24 (a full day of activities) 
The hottest passport in the region, that gets you into much scarier places than a normal passport, is the Brockhole Pumpkin Passport. 
Join us for scary and fun family activities and shows, and with a Pumpkin Passport you can enjoy as many as you can, or dare, in a single day. 
Opening/Closing and Arrival times 21st – 29th Oct
Activities: are open at 10am-5pm, shows are set times, (the owls are not on Saturdays or Wednesday)
Site open from: 9am for collection of tickets
This event has fully sold out for the last 4 years so please book early to avoid disappointment.
20 frightfully
 fun activities 

for 2023
Haunted Forest (New)
Halloween Owl Experience, All ages, (not on Saturdays or Wednesday) UPDATED **Please note the owls are not on this Sunday 22nd October due to the storm**
Ghost Storytelling, All ages
Wizards Halloween Magic Show, All ages
Pumpernickel's Mad Science Show, All ages
Day of The Dead Drumming Workshop, All ages 
Axe throwing (New), All ages (8yrs + the real deal and 7yrs & under, soft play axes)
Spooky Pet Encounter (New), All ages
Krazy Karts Scarecrow Style, 7yrs +
Zombie Laser Clay Shooting, 8yrs +
Graveyard golf, All ages
Brave the Cave, 5yrs + 
Workshop of Art and Witchcraft, All ages
The fairytale trail, All ages
Zombie archery, 7yrs +
Mini tractors pumpkin patch, 6yrs & under
Giant pumpkin trail, All ages
Tipi of terror (New), All ages
Arachnid Assault (New), 6yrs +
Laser Combat (New), 8yrs +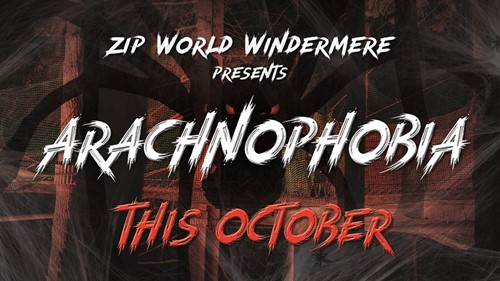 Pumpkin Passport PLUS Treetop Nets – new for 2023
Horrifying 8-legged monsters have swarmed the Nets: you have 1 hour to escape the beasts' lair but watch out for the spider-human hybrids who may also fancy a bite!
The nets are suitable for ages 3+, children age 3-4 must have a participating adult with them, children age 5+ don't need a participating adult but must have an adult supervisor in the nets area at all times.
Price - £34 per person for all the activities above PLUS a 1-hour session on the arachnid-infested Treetop Nets!
3yrs £10 with an adult with a full pumpkin passport PLUS
4yrs + must have a full pumpkin passport PLUS £34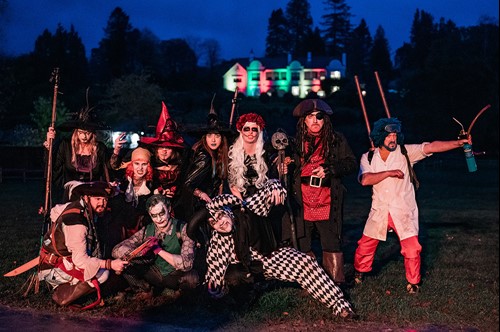 Adult Supervision and Participation:
Everybody 4yrs and over must have a Pumpkin Passport to enter any Halloween activity area.
3 years and under get free entry, but we do remind people that some of our activities may be too scary for the smallest children.
Children under 11yrs with a Passport must be accompanied on all activities by an adult with a valid adult Pumpkin Passport (wristband). 
Children 11 – 15yrs with a Passport (wrist band) must have an adult supervisor present on the Brockhole site at all times (but not necessarily in the activity areas) and adults do not need a passport if they are not entering the activity areas or participating in the activities. 
Carers: 
If you are officially a registered carer for someone 11yrs + please contact the box office to discuss pumpkin passports.

Carers must be accompanying a paying guest 11 yrs + and must show their Carer's Card.

You must let us know before the event if you're bringing your carer to help us manage the daily capacity of the event.

Children under 11yrs must always be accompanied on site with and paying adult.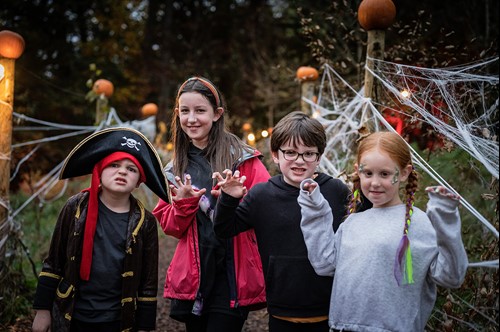 Booking your Pumpkin Passports

Please book your Pumpkin Passport online in advance. Numbers are limited. (SOLD OUT)
All activities are available to those who have Pumpkin Passport wristbands, but please be aware of age restrictions on some activities, 

except for the Nets, which are reserved for Pumpkin Passport Plus holders.

Only Pumpkin Passport holders will be allowed into any of our activities and no spectators will be allowed into any of the activity areas.
Children under 11yrs must be accompanied by an adult with a valid Pumpkin Passport.  
Collecting your Pumpkin Passports 
You can pick up your pre-booked Pumpkin Passport on the day, from the designated Passport Pick Up Point open outside Brockhole House from 9am each day.
All members of your party will need to go to the pick-up point so that they can have their wristbands attached.

If you want to upgrade to a Pumpkin Passport Plus on the day, then head to the Treetop Nets reception (by the play area) and they will give you your upgraded wristband to go on the Nets.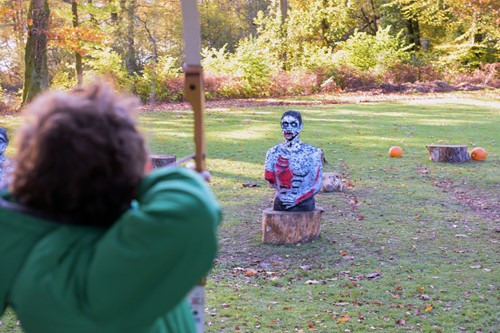 A little bit of extra info
Activities and Parking
Between the 21st and 29th October, the car park will be open to pre-booked pumpkins passport holders only or pre-booked Tree Top Trek and Nets customers.
You still have to pay for Parking at Brockhole even if you have a pre-booked Pumpkin Passport. 
Eat & Drink
All of Brockhole's usual food and drink outlets will be open, including our outdoor BBQ, Fish & Chip van and The Gaddum Kitchen as normal.
Gaddum Kitchen open from 9am for breakfast.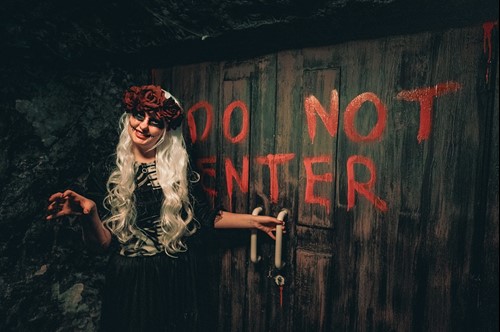 Be Prepared
Clothes & Footwear - Some activities are outside - or you have to walk outside between them - so please dress warmly and bring outdoor clothing and footwear suitable for a wet woodland trail.
Waterproofs - If it is raining you will need good waterproofs
Costumes - we love it when people dress up so why not go the whole hog and add to the atmosphere
T&Cs - please read before booking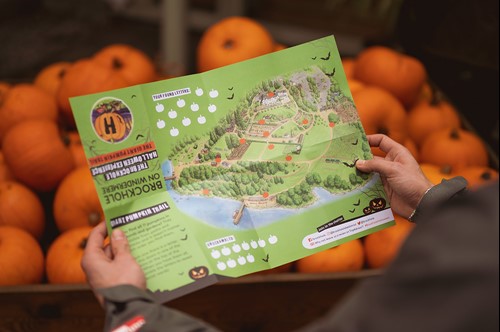 What do I get for the ticket price?
The ticket price entitles you to a wristband valid for the date you've selected. 
The wristband gives you access to all the activities and shows on site on that date (some activities have age restrictions). The Nets are only accessible to Pumpkin Passport Plus holder.
Only guests wearing a wristband can participate in activities and watch shows.
We cannot guarantee that you will be able to do all the activities or watch all the shows.
You cannot change the date of your ticket after purchase.
Tickets are non-transferable 7 days prior to the event, 21st October, if you wish to change the date prior to the 21st October please note we have a £10 admin fee. 
Ticket collection
Wristbands can only be collected from the White House on site at Brockhole on Windermere on the date you have selected.
Wristbands can be collected from 09:00.
Wristbands can only be purchased online.
Under sixteens
Children sixteen and under must be supervised by an adult on site. This adult does not have to purchase a wristband to be on site. However, they do need a wristband if they want to participate in activities or watch shows.
Carers
If you are officially a registered carer for someone 11yrs + please contact the box office to discuss pumpkin passports.
Carers go free. Carers must be accompanying a paying guest 11 yrs + and must show their Carer's Card on the day. You must let us know before the event if you're bringing your carer to help us manage the daily capacity of the event.
Refunds
You can have your ticket refunded up to 7 days before the start date of the event on Saturday 21st October 2023.
We do not issue refunds for any reason after this point unless we cancel the event
To request a refund please forward your ticket confirmation email to info@brockhole.co.uk
Dogs
Dogs are not allowed to enter activity or show spaces.
Dogs are allowed in the grounds, the Gaddum Kitchen and shop. They must be kept on leads.
Parking
Parking spaces are reserved for ticket holders only. Normal parking charges apply.
Weather
In the Lake District, October is the month with the highest average rainfall. A lot of our activities are outside and on the grass. It's likely to be wet and muddy.
Queues
Queues are likely. This is a popular event and some of our activities can only fit a small number of people at any one time.