The Gaddum Family
William Gaddum, a successful silk merchant from Manchester moved his family into Brockhole in 1899. 
For over 40 years Brockhole was a happy home where the Gaddum family entertained friends and celebrated special occasions; William and Edith celebrated their Golden Wedding Anniversary at Brockhole on 3 February 1936. Beatrix Potter even noted the event in her diary.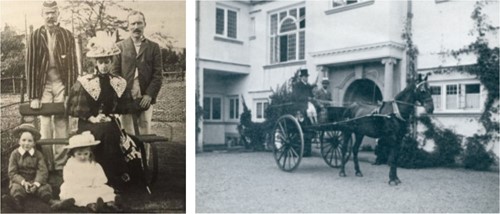 Walter Frederick, known as Jim, was born on 7 April 1888. Jim was educated at Eton and Cambridge before joining the Westmorland and Cumberland Yeomanry in 1914, with whom he served throughout the war in France, gaining the rank of Captain. It must have been a relief to the family when he returned safely from the war and married Benita Fisher in September 1918; one of the guests at the wedding was Beatrix Potter. In 1943 he became the High Sheriff of Westmorland and then the Deputy Lieutenant of the county in 1946. He and Benita lived in Kendal. Jim died in 1956 and was buried at Troutbeck.
William and Edith's daughter Elizabeth Margery, known to the family as Molly, was born on 23 January 1892.  In 1912 Molly married John Payne who was 15 years her senior.  When war broke out in 1914 John served with the XVI Manchester's whilst Molly returned to live at Brockhole.  After the war, the couple settled at Elm Lodge, Ludlow and had a son, John Walter, in 1919.  When John died in 1951 Molly lived with her son and his wife until her death in 1973.
Edith Gaddum died in 1937 and the following year William married Agnes Vey, a widow who lived at the adjoining property. William Gaddum lived at Brockhole until his death on 19 January 1945.
The Gaddum family today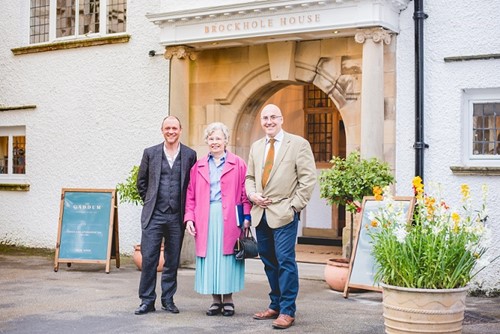 The Gaddum Restaurant Opening Event with Hilda Gaddum
In the Spring of 2018 a member of the Gaddum family, Mrs Hilda Gaddum, widow of Anthony Gaddum, William Gaddum's third cousin once removed joined us to open The Gaddum Restaurant. 
Mrs Gaddum, a Councillor at Cheshire East and former member at the Peak District National Park Authority, joined Richard Leafe, Chief Executive of the Lake District National Park Authority and Sam Mason, Brockhole General Manager to welcome the first guests to The Gaddum (pictured above)