Brockhole House
Brockhole was one of several 'gentleman's residences' built around Windermere at the end of 19th century for wealthy industrialists and merchants from the northern cities.
The Arts and Crafts style was popular and Brockhole's architect Dan Gibson led the way embracing its informality suitable for a home of leisure. Several houses were built during this period: Broad Leys designed by Charles FA Voysey in 1899 for Arthur Currer Briggs, a Victorian Industrialist from Wakefield; Hugh Ballie Scott's Blackwell, designed in 1899 for Mancunian Brewer and the neighbouring Cragwood Country House, designed by Frank Dunkerly in 1910 for the industrialist Albert Walburton.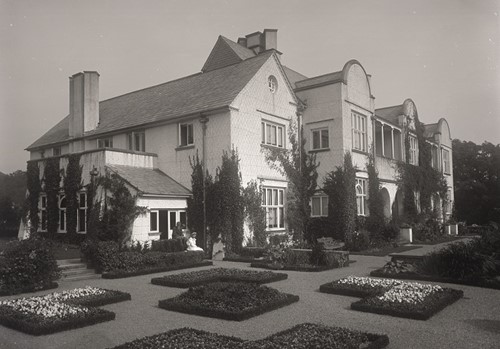 Brockhole's House and Garden was one of the few commissions undertaken during the brief partnership between architect Dan Gibson and landscape garden designer Thomas Mawson. This collaborative venture is important and consequently, Brockhole House forms an integral and highly significant part of the designed landscape and indeed contributes to its special historic interest. The house and garden were under construction concurrently and the process was recorded in photographs taken by William Gaddum, a keen photographer.
The original driveway curved its way up from the main road through a gated entrance to the front door of the house. On the ground floor, there was a dining room, drawing room, billiard room, a library, a smoking room, workshop and servants' quarters. The family mostly used the rooms at the front of the house where they could enjoy the views of Windermere, the Langdale Pikes and Claife Heights. The walls on the inside of the house were lined with oak wood panelling and the staircases had hearts carved into them in the Arts and Crafts style.
The house had no running water when it was built; water was drawn from a well in the kitchen courtyard with a gauge on the wall showing how much water was stored in lead-lined tanks in the roof of the house. The Orangery, which visitors can sit in and enjoy today, had tanks buried in front of it to collect rainwater from the gutters; this was then used to water the flower beds close to the house.
A summer house was built in the gardens and a flat area of ground was laid out as a game's lawn - a place where William and Edith could sit, host tea parties and play tennis or croquet.
Brockhole House today...
The beautiful white house is now home to many of Brockhole's best loved attractions including a wonderful gift shop full of local goodies, crafts and foodie treats. Our new 'Story of the Lake District' Exhibition, The Gaddum Gallery, the Brockhole café with lake view terrace and of course our stunning restaurant, The Gaddum.