The Green Recovery Project
Date: 26 Jul 2022 - 31 Mar 2023
Our exciting new project will work to restore and improve the wonderful natural habitats at Brockhole on Windermere.
Visitors and young people will be inspired to protect and connect with nature through nature-focused fun activities, a programme of educational engagement for schools and placements to train young people in nature conservation. 
The Lake District National Park Authority will work alongside The Ernest Cook Trust to deliver this project centred on nature recovery.
The project is funded by the government's Green Recovery Challenge Fund. The fund was developed by Defra and its Arm's-Length Bodies. It is being delivered by The National Lottery Heritage Fund in partnership with Natural England, the Environment Agency and Forestry Commission.

This project will focus on three key areas of work :
The conservation, restoration and interpretation of eight priority habitats at Brockhole on Windermere.
The development of a fully resourced, accessible and versatile engagement programme for young people from urban backgrounds to connect with nature on our site.
A training programme that will upskill young people in habitat restoration/conservation skills, providing valuable work experience, skills and importantly accreditation for jobs in the environmental sector.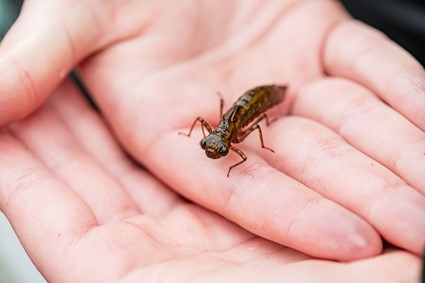 Brockhole's beautiful 30 acre grounds are home to 8 'UK BAP priority habitats' 
UK BAP priority habitats cover a wide range of semi-natural habitat types, and were those that were identified as being the most threatened and requiring conservation action under the UK Biodiversity Action Plan (UK BAP).  
Upland oakland eg. ancient woodland
wet woodland/upland ashwood
neutral grassland
damp meadow/rush pasture
pond
species rich tall herb fen
eutrophic standing waters eg. lake shoreline
traditional orchards 
Conservation work
To improve our priority habitats, we have been undertaking a range of conservation and restoration work:
restoration work has taken place on our 

lakeshore

 to prevent erosion and in the ancient woodland to give the next generation of trees the best chance to flourish.

 

the pond area has been doubled in size, and 

the 

surrounding tall herb fen

 will be increased to benefit a range of terrestrial and aquatic species

.

a traditional 

orchard has been planted for

 restricted educational use.

two further bee hives have been added 

to accompany the

 colony of

 Brockhole bees.

 
We hope that by giving back to nature, we will create a richer and more diverse landscape that can be shared and enjoyed for generations to come.  
Join us for an 'Explore and Restore Nature Day' at Brockhole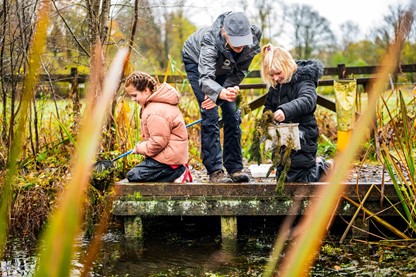 Our 'Explore and Restore Nature Days' are part of the Green Recovery project at Brockhole and offer the opportunity for eligible North West England based schools and youth groups to take part in subsidised nature-focused learning activities.
From now until March 2023 an exciting programme of youth engagement and conservation work will be lead by the Learning Team at Brockhole, through which we will explore and restore some of the amazing habitats on Brockhole site; such as our ancient woodland and the tall-herb fen which surrounds the pond.
Each habitat is packed with fascinating wildlife and plants to explore… let us take you on a nature-based educational journey!
Click here to find out more and book your place on an 'Explore and Restore Nature Day'
The Ernest Cook Trust (ECT) is a UK educational charity that creates outdoor experiences for children and young people, particularly those experiencing challenging circumstances.  The Trust nurtures a lifelong journey of learning, appreciation and respect for the countryside through the experiences it offers, and supports, for young people and their communities.  The collaboration with Brockhole provides learning opportunities that enhance young peoples' skills, employability, mental health and wellness.
Find out more about The Ernest Cook Trust