Event Ended
Moment - An exhibition of paintings by Maria Burton
Date: 2 Aug - 18 Oct 2018
Price: Free
Introducing our new exhibition of original paintings by Maria Burton
From August to September we are delighted to host a brand new exhibition in the Gaddum Gallery by Lakes based artist Maria Burton.
'Moment' is Maria Burton's most significant exhibition to date. Working mainly from sketches with support material from photography.

- The Gaddum Gallery
Maria morphs what she sees either on location or back in the studio in Penrith. This metamorphosis may attempt to catch a second, several minutes, hours or even years of experience in an energy filled work.
Wherever possible, Maria visits the location she is painting a number of times or indeed observes the wildlife at some length in order to understand its nuances, it's changes, its habits and behaviour. She has an innate fascination with the outside world in particular and with painting and, in awe of the majesty of fells and mountains, these often provide the stage for atmospheric skies to dance around. 
Maria takes every opportunity to study a myriad of artists and her influences include Fred Cuming, Joan Eardley, J.M.W. Turner, Peter Wileman and her current favourite, Christian Hook. Maria has a studio within the Eden Valley Artistic Network Gallery, Penrith, Cumbria. CA117PX

About Maria Burton
Maria turned to painting wholeheartedly in 2014. She has since trained under various tutors at the Glasgow School of Art, Higham Hall and for the duration of 2017, under Martin Kinnear at the Norfolk School of Oil Painting.
For Maria, painting is about a connection and an expression. The work is personal, borne of experience. It moves beyond the obvious and is something that she hopes the viewer will recognise in their own way. Nothing is more of a privilege than when a stranger connects with a piece. Sometimes, it about us, a celebration of life and sometimes about the natural world, wild weather, a moment in dramatic landscape and beauty.
With ambition to experiment in styles and subject, expect the unexpected or, perhaps Maria Burton will remain as atmospheric landscape painter making energy filled paintings? Perhaps a pseudonym that would intermittently carry a diverse collection without losing that starting point? Discover more when you visit her exhibition at the Gaddum Gallery.
Awards and Major Exhibitions
People's Choice at the Cumbrian Artist Showcase,
Penrith 2016 Exhibition Visitors award - Create Longridge 2017
People's Choice - Artists in Penrith 2017
Represented by Northern Lights Gallery, Keswick.
Read more about Maria's work on her website.
Extend your visit and enjoy The Gaddum Restaurant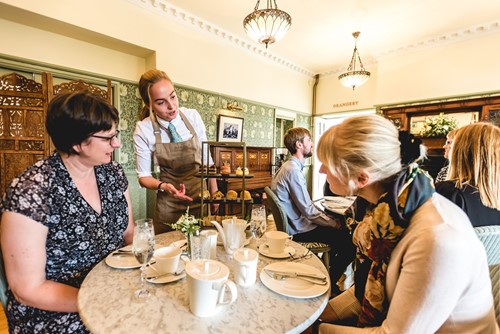 Why not discover our beautiful new Arts and Crafts inspired restaurant, The Gaddum here at Brockhole as part of your visit to the gallery? Enjoy Lunch, Afternoon Tea or perhaps an early evening meal (served until 7pm), the choice is yours. Find out more.