Event Ended
Taffy Thomas - 'Tell Someone a Story for Christmas' on Sun 9 December
Date: 9 December 2018
Price: Free (If you purchase a Christmas Tree) or £3
Start: 9 December - 12pm, 1pm, 2pm
Join us this Sunday, 9 December for an exclusive storytelling session with Taffy Thomas!
Buy a book, CD or a tree and get a story FREE...
Taffy Thomas, the original storytelling laureate, will be telling his famous story of The Christmas Tree, at Brockhole this weekend and as a special gift, if you buy your Christmas Tree from Brockhole or one of Taffy's books or CD's, you get free entry to the storytelling. So, what are you waiting for, why not come along with the family and enjoy a fun filled, festive day out!
Times: 12.00pm, 1.00pm, 2.00pm 
Free entry (for up to 5 people) if you buy a Brockhole Christmas Tree (any size – starting at £25)
Free entry (for 2 people) if you buy a Taffy Thomas book or CD (from £8.99)
Already got your Christmas tree or Taffy goodies - that's no problem, join in the fun for just £3.00 per person with under 4s free

Free parking for everyone!
Introducing: Taffy Thomas - the storyteller from Grasmere
This December we are lucky enough to have local artist and world-renowned storytelling master, Taffy Thomas here at Brockhole on Windermere to get you and the children in an extra special festive mood for Christmas this year. 
Taffy Thomas trained as a Literature and Drama teacher at Dudley College of Education. After teaching for several years in Wolverhampton he founded and directed the legendary folk theatre company, Magic Lantern, illustrating traditional stories and songs with shadow puppets and circus skills. Read more at taffythomas.co.uk  
As part of this exclusive one-off meetup with Taffy, there will be signings of his latest book entitled 'Lakeland Folk Tales for children', as well as his brand new Christmas compilation CD consisting of music and stories for you and the family to enjoy anytime you want this Christmas. 
Both the CD and book as well as our much loved fully sustainable Christmas trees are available to buy in our Christmas shop here at Brockhole on Windermere. This is simply an event not to be missed!
Lakeland Folk Tales for Children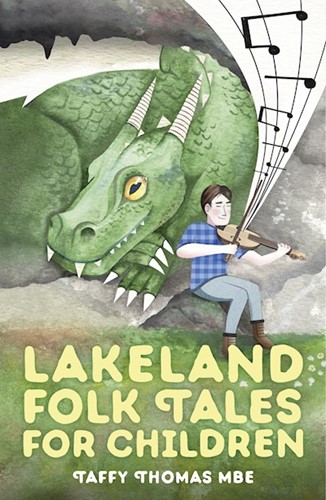 "Did you know that if you look closely around Scafell Pike in the winter you might find a great dragon? Or that hidden in the forest around Egremont you might catch a glimpse of the fabled fairy folk? What, you don't believe me?! Read these tales then take a look for yourself. This collection is full of stories that Taffy has told over the years, and that children love to hear time and again. Including a gang of smugglers and an ugly face-pulling competition, not only will children love to read them, or listen to them being read, the tales will also stimulate an interest in the area, and help children engage with their own surroundings wherever they live.' Price: £9.99 (exclusively signed!)
Telling Someone a Story for Christmas CD
A collection of festively-themed Christmas music and storeys compiled together onto a brand new compilation CD. Price: £8.99
Make a day of it at Brockhole...
From 1-23 December it's FREE parking and we have so much for you to enjoy this festive period. From choosing your own beautiful Christmas Tree, a handmade wreath for your home and or an exclusive gift from our shop to winter walks and more. The Gaddum Restaurant is serving a stunning Festive Afternoon Tea and we have a brand new exhibition in The Gaddum Gallery, plus adult arts and crafts sessions throughout the month. Read more about our plans for this December here.