Event Ended
Nature's Nursery 6 November - 18 December
Date: 6 Nov - 18 Dec 2018
Price: £3.50 Per Session
Start: Tuesdays 10:30
Calling all mums, dads, brocks and brocklings, back by popular demand!
Come and join us on Tuesday mornings for some fabulous fun with nature. Allow your little Brocklings to explore their senses using the great outdoors and share magical moments of discovery together before grabbing a tea or coffee and relaxing as they let off some steam in the soft play area.
10:30am -12pm, every Tuesday from November 6 - December 18
Why should you and your Brocklings choose Nature's Nursery?
Calling all mums, dads and grandparents. If you live locally, why not bring the kids to our ongoing, super fun and educational sessions - Nature's Nursery. These events are unique experiences exclusive to Brockhole. Sessions last 1 hour and cost £3.50 per child or £20 for all 7 sessions. Our sessions will finish with a chance for you to relax as your little ones enjoy the cubby hole, our soft play area. 
Outdoor and indoor activities
Beautiful gardens and surroundings 
Education meets fun!
Social gathering, chance to meet other parents 
Friendly professional activity leader 
Head outdoors and explore the Brockhole grounds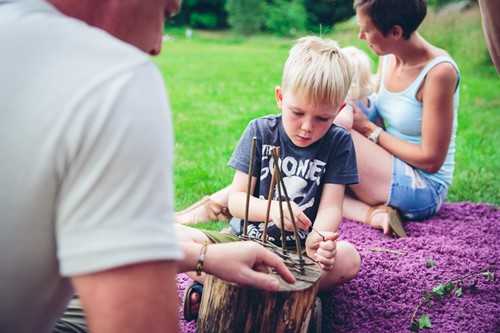 Back indoors, a chance to relax (for the parents!)
The Cubby Hole by Felltarn Friends is a fun space for the kids to burn off a little bit of energy. Our selection of wildlife-themed soft play equipment is suitable for tots under 4 years old and all the walls are decorated with the lovable Fell Tarn Friends characters!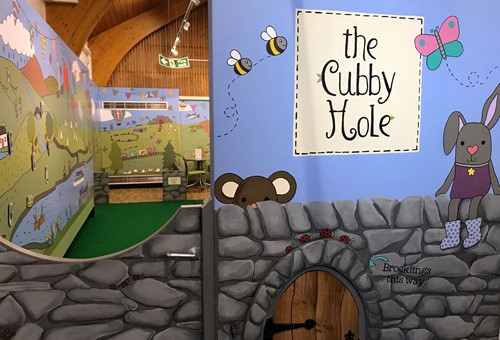 Photo courtesy of Lakes Lux blog
Meet Jenny from the Brockhole Education Team 
Hi, I'm Jenny, one of the newer members of the team. Having completed a degree in Primary Education I have now decided to focus on educating children in the outdoors and I'm excited to start a new program here in the fantastic grounds. The program is for parents and Brocklings to come and explore the wonders of our natural environment!
I am bringing ideas from my teaching and incorporating them with the exciting environment we have in the National Park in a series of developmental sessions.
You and your children will have the chance to don your wellies, use your senses and make a range of wildly wonderful creations to take away with you before settling down with a cuppa whilst the little Brocklings let loose in the soft play.

- Jenny Mather
Each week will bring a different focus in an hour-long session which you can drop into anytime between 10:30 and 12. The children will learn through exploring their senses and using their imaginations in facilitated play and creative activities. You will get the chance to meet likeminded parents and watch your children grow into little adventurers. So come along and get exploring!
Dates
| | |
| --- | --- |
| Date | Name of activities |
| Tuesday 6th November | Bonfire Bonanza – a wonderfully colourful and creative session. |
| Tuesday 13th November | Winter is coming – don your winter warmers and discover all the changes winter brings to Brockhole. |
| Tuesday 20th November | Winter warmers – exploring all the different ways we can stay warm in winter. |
| Tuesday 27th November | Advent Awaits – let's begin the Christmas countdown and get busy with advent. |
| Tuesday 4th December | Elf on the shelf trail – Can you find all the elves hidden in the Brockhole grounds? |
| Tuesday 11th December | Festive Fauna – Bringing nature into the Christmas spirit. |
| Tuesday 18th December | Christmas Party! – food, crafts and party games for our final Nature's Nursery this year. |
How to book
It would be great if you could give us a quick call to let us know if you are planning on attending a session. You can call us on: 015394 46601
See you soon!