Gaddum Gallery: Landscape in Colour
Date: 3 Dec 2021 - 27 Feb 2022
Price: Free
Start: Friday 3rd December 2021
Derek Eland, Briony Farr, Libby Edmondson and Nigel Edmondson
Friday 3rd December 2021 – Sunday 27th February 2022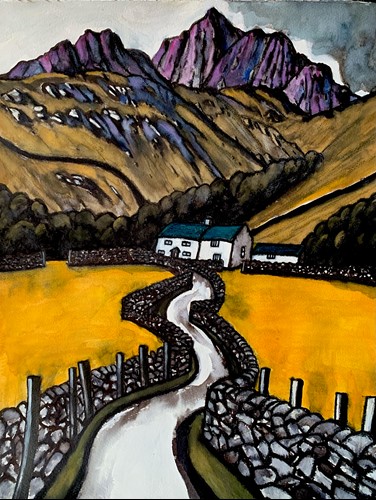 In the Lake District the views are world renowned, the vibrancy and colours bring visitors to the National Park to catch a glimpse come rain or shine. Looking out of the windows at Brockhole house you can see Lake Windermere and the hills surrounding admiring the beauty and on a bright summer's day the reflections of the water shimmer under the trees.
But as winter seeps into the Lakes, the colours slowly drain from the landscapes, and everything becomes quiet and muted. On an overcast day the view can become clouded and overcast, the beauty is still there, but is often hidden.
'Landscape in Colour'  brings together Derek Eland, Briony Farr, Libby Edmondson and Nigel Edmondson whose works are bright, vibrant, and colourful.
Derek Eland's work is bold and full of colour. His paintings look at the impact we make on the landscape: dry stone walls, fields, hedgerows, farms, and cottages that are set against the dramatic background of the Lakes.
Inspired by walks in the Lake District Briony Farr's new work is based on the weather and how the weather can change in a second. The movement in her brushstrokes brings expressive feelings to her work and evokes the feeling of being out in the elements; getting blown about by the wind, rain rattling overhead, or the sun casting rays through the trees.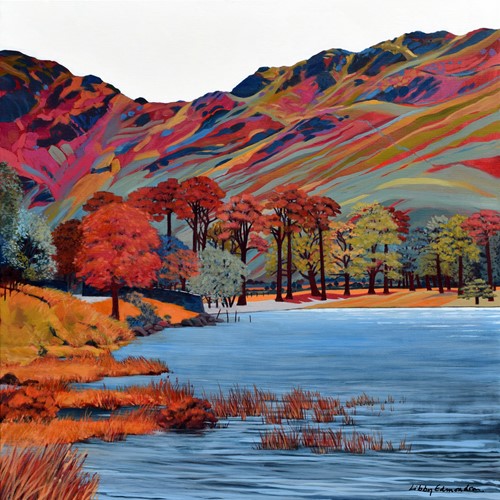 Libby Edmondson paints her landscapes with such vibrancy and colour. Using a range of figurative and abstract approaches, her paintings reflect her interest in the local landscape. The richness of colour transports the viewer to the moment in time where the seasons change and the landscape transitions from lush greens to fiery reds.
With walks that have inspired pieces that respond to the views and changing elements of the Lakes, Nigel Edmondson's sculptures are abstract and richly textured to reflect on the Lakeland fells that lie on his doorstep; stunning scenery carved into the surfaces, textures that mirror surrounding rockfaces and colours that reflect the time of year.
'Landscape in Colour' reminds us of the bright, vivid colours of seasons past and how each season brings something new to the rich and versatile backdrop of the Lakes.