Event Ended
Detail in Nature - an exhibition by Ellie Chaney
Date: 1 Dec 2017 - 28 Feb 2018
Price: Free
We open our Gaddum Gallery for the first time with Ellie Chaney, a Cumbrian based artist.
For her exhibition at Brockhole on Windermere, Ellie will be exploring the ecology of the grounds, from the ancient woodland to the lake and creating wonderful papercuts and prints of the animals and plants that live there. 
Ellie Chaney is a Cumbrian creates illustrations and papercuts of the natural world. For Ellie the creative process is a way to study and learn about these creatures, and to address the fact that many species are now in decline and at risk. Also an artist educator, Ellie has worked with people of all ages facilitating workshops where people can explore these themes and their own creativity. 
"Creating artwork that is intricately detailed has always been a passion of mine, and so when I discovered papercutting in 2010 I fell instantly in love with the medium. I also love to work in illustration and printmaking, making complex images inspired by natural patterns and forms which I combines with my other love of ornamental patterns."
Join us at Brockhole and take a look around this fantastic free exhibition, key pieces of Ellie's work will also be available to buy.
Read more about Ellie and the inspirations for her work on her website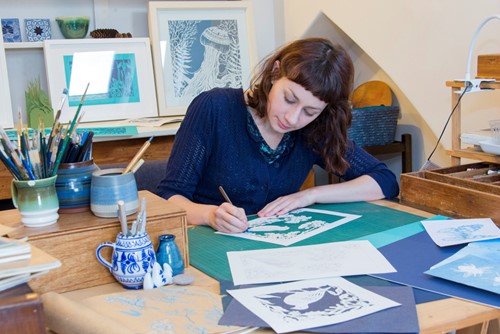 Local artist Ellie Chaney at work