Event Ended
Creative Contrasts - An exhibition from seven artists Nov 3 - Jan 30
Date: 3 Nov 2018 - 30 Jan 2019
Price: Free
An exhibition of work by seven different artists from across the region 
From November 3 to January 30 we are delighted to host a brand new exhibition in the Gaddum Gallery by seven talented artists from across the region.
Creative Contrasts sees seven women artists from across the region, some of who are just starting out on their artistic journey, the opportunity to show their work at this amazing venue. Working across three differing media; painting, photography and print they combine colour, monochrome, abstraction and storytelling to produce a vibrant and exciting exhibition. The women who submitted their images individually will exhibit together as a group for this one off exhibition are Polly Marix Evans –Printmaker, Liz Jones –Printmaker, Sarah Taylor – Painter, Eileen Gledhill –Painter, Joyce Eldred –Painter, Tricia Meynall - Photographer and Emma J Lock – Painter.
Eileen Gledhill
Landscape and nature paintings bring a different place, weather and moment into a home, and they bring the feeling, reaction and expression of the artist, and of the viewer, out onto the wall where it can be shared. I work in oils, using a variety of techniques to manipulate the paint, depending on the forms and mood of the subject. I spend time absorbing the atmosphere, colours and light of places which inspire me and gathering information through photography, sketches and visual memory. I then return to the studio to produce the final work, expressing the particular ambience of the place and the moment.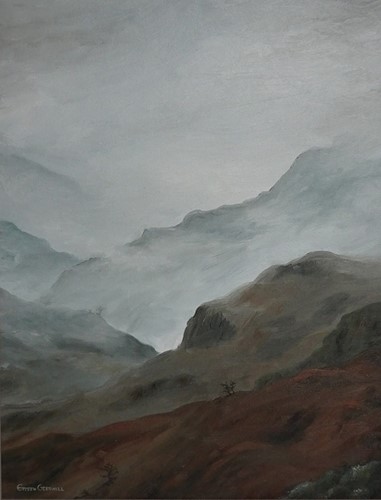 Polly Marix Evans
Polly Marix Evans discovered her love of printmaking during her Art Foundation course at Northbrook College, Horsham,.  She went on to study Fine Art Printmaking at The Manchester Metropolitan University, graduating in 1993. During her university years her work was mainly figurative, drypoints and monoprints, as well as much larger paintings, often depicting female nudes and portraits.  To this day, she still enjoys drawing the human form and undertakes commissions for portrait work of both adults and children.  Her sketchbooks contain many swift sketches of her own three children, friends and other unsuspecting humans!
Polly's move to Cumbria, in 2013, inspired a series of linocuts based on the Cumbrian landscape.   With a grandmother who was born and lived in Cumbria, the cosy stone cottages and farmhouses nestled on the fells have always held a special place in Polly's childhood memories.  Her linocut prints often feature these cottages and farms, along with winter trees and cold, windswept beaches.
Polly's recent moon and tree series now see her edging towards mythical imagery featuring wolves and other fairytale images, along with stylised text, as part of a planned series of slightly 'darker' prints.
With a passion for printmaking, Polly is at her happiest in her inky element, enjoying every process in the production of her prints – from initial sketch, to plate or block preparation, to the excitement of seeing the finished print itself.  She works from her home in the Eden Valley.
All Polly's prints are hand inked and baren printed, this means slight variations may occur even within an edition.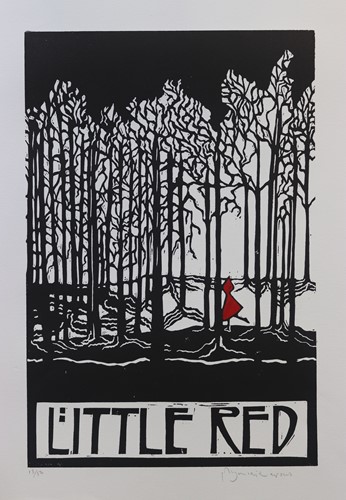 Joyce Eldred 
I have been painting most of my life and in 1998 I did an Access Course at Kendal College and this led to the University of Central Lancashire where I gained a 2.1 Degree in Fine Art in 2001. I then went on to Bolton Institute where I gained a P.G.C.E. I taught Drawing during a Summer School at Lancaster University and a Watercolour Workshop. I have since taught at Dallam and run my own private classes.
Over the past few years, my work has moved towards abstraction based on the Landscape of the Lake District where I live. I like to experiment with a variety of medium including oils, watercolours and Acrylics with Drawing being the foundation of all my work.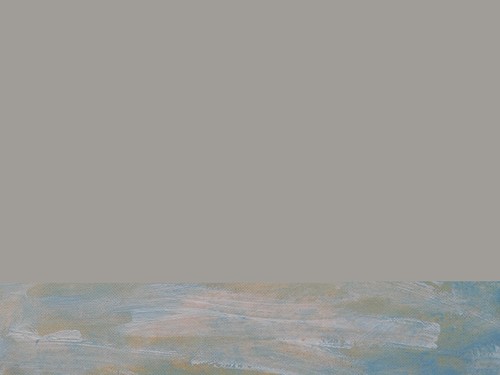 Liz Jones
Liz is an artist with a passion for printmaking, lino printing in particular. She was born and raised in Cumbria, where she still lives today. This rural environment provides her with a rich source of inspiration, whether it be glimpsing deer in the woods whilst walking her dog, observing the birds on the feeders or watching her chickens forage busily in the garden. These simple details of everyday life give her pleasure and often find their way into her linocuts.
Since producing her first linocut under the expert guidance of Brian Campbell, a well known Cumbrian artist and teacher, Liz has loved the process of lino printing. From the initial sketch through to the intricate carving and printing of each layer of colour, to the moment the paper is peeled from the lino block to reveal the final image, each stage provides a feeling of anticipation (and fear!) as to whether the print will emerge in the way she envisaged.
She loves the challenge of working with a limited colour palate to hand produce her images which are all original and produced in very small print runs mainly using the reduction method (whereby the same lino block is carved for each colour) and very little of the original block remains at the end of the process.
She has exhibited in various exhibitions and galleries around Cumbria, including Tullie House and Upfront Gallery.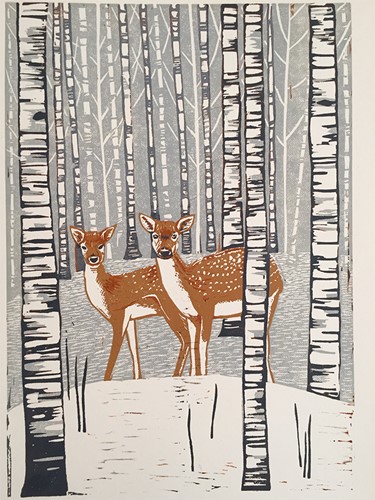 Sarah Taylor
Sarah's unique blend of wild splashy paint and intricate geometric pattern entice us into a world of adventurous wildlife painting and contemporary illustrative work.  Her bold portraits of the animal kingdom present an array of characters that you cannot help but fall in love with.
Sarah's unique style has evolved from tipping and tilting the canvas to blowing the paint around, with the aim of losing some control over some of the marks within her paintings. "I build up layers of splashes until I have the basic 3d shape, then start to really integrate some geometric detailing to make a beautiful combination of fluid paint and accurate hand-drawn patterns."
Sarah graduated from the School of Art at Nottingham Trent University in 1998 with a BA Hons in Photography. She works from her studio on the edge of the Lake District.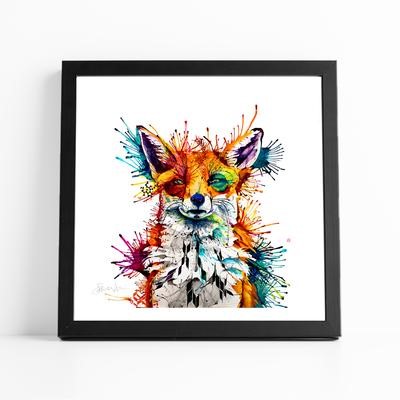 Tricia Meynall
Tricia is a fine art photographer specialising in abstract imagery. Her camera is often used to 'paint' the subject by selecting colour and form and shooting in such a way that these two elements are rendered as a confusion of colours with just the merest hint of the reality behind them. Much of her subject matter is found in the countryside around her but rather than reproducing what she sees in a traditionally representational format, she bends and twists the boundaries between photography and painting and printing until the images are more imaginary than factual. 
Her work is often studied in local schools as part of the photography curriculum and she has taught on the foundation photography course at the University of Cumbria. For those beginning to explore the art of digital photography, Tricia also offers bespoke courses to small groups or individuals.
Emma J Lock
I try not to comply with the norm or any rules with my painting and deliberately avoid falling into any expected habits with my work. I have gained most of my experience from practising and trial and error and therefore feel my work is all me not directed or manipulated by education. I favour this approach as I believe it makes me unique. Hope you agree as you invite my original paintings into your home or work space. I currently have works owned across the world from as far as Australia, America, Japan, Germany and so on. I am an experimental, colour loving, complex artist with a head full of creativity so who knows where my journey will take me, but it is guaranteed to be colourful and original.
I hope you enjoy my paintings as much as I have enjoyed dreaming them up and creating them. All my paintings are in Acrylic, Oil, Epoxy, Mixed medium, Unison pastel or Watercolour on canvas or high-quality artist paper and are all originals. I sell only originals no prints, copies or duplicates. I hope this shows my commitment to producing something special.
In 2018 I have been developing a technique called free flow which enables me to use the paints natural flow to help create my work. I have also begun experimenting with resins and the flow and fluidity they create. I have huge plans for my work in 2018 and it will be evolving greatly looking into 2019 and my solo exhibitions which are planned.
In 2019 as only my second year as a full-time artist, I am thrilled to have been asked to create several solo exhibitions as well as some collaborative efforts. With a busy year ahead please drop by my website for regular updates and new works.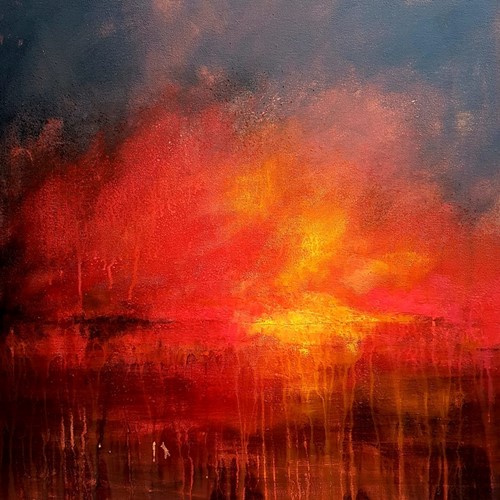 Extend your visit and enjoy The Gaddum Restaurant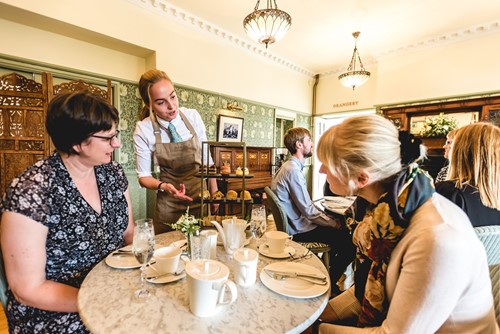 Why not discover our beautiful new Arts and Crafts inspired restaurant, The Gaddum here at Brockhole as part of your visit to the gallery? Enjoy Lunch, Afternoon Tea or perhaps an early evening meal (served until 7pm), the choice is yours. Find out more.