Event Ended
The Brockhole Halloween Experience
Date: 21-31 October 2020
Price: Full Passport £27, Mini Passport £14
Start: 21st October, 10am
Return of the Pumpkin!
This October Brockhole is being taken over by more monsters, ghouls and ghosts and again you're invited to join them… if you dare!
Back for its third year following the sell out event in 2019 we are expecting demand to be soaring high with the witches in 2020.
The only thing you should be truly scared of is missing out...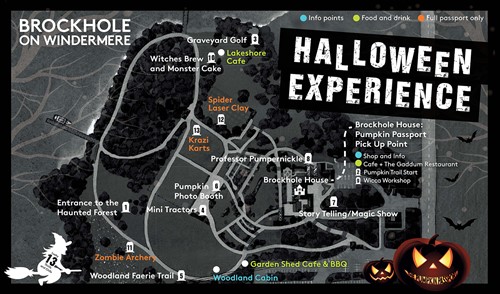 The Brockhole Halloween Experience – Covid 19
You must not attend the Halloween Experience if you are:
Currently testing positive for Covid 19
In a period of self-isolation
Showing the recognised symptoms for Covid 10
It is advised that you don't attend if you are:
Within a Government restricted area where the advice is not to travel to other areas unless essential
Please contact us on 015394 46601 if either of the above applies to your booking and we will be happy to provide a full refund.
The Full Pumpkin Passport | Ages 7+ | £27
For all 13 Halloween Experience activities
A Full Pumpkin Passport is suitable for all ages 7yrs + and allows entry into 13 (unlucky for some) spooky Halloween activities, making it the perfect way to celebrate Halloween this year! The Pumpkin Passport is fantastic value and offers a full day of activities at less than half their usual price.

Allow 4-5 hours to complete.
Haunted Forest (All ages but some scary bits for the nervous) (15-20mins)
Giant Pumpkin Trail (All ages) (30-40mins)
Graveyard Golf (All ages) (15-20mins)
Mini Tractor Pumpkin Farmer (3-6yrs) (15mins) New
Woodland Faerie Trail  (All ages) (20-30 mins) New
Pumpkin Photo Booth (All ages) (5 mins)
Storytelling (All ages) (30 mins)
Professor Pumpernickel (All ages) (30 mins)
Wicca Workshop of Art & Witch-crafts (All ages) (30 mins)
Witches Brew and Monster Crunch Cake (All ages) (5 mins)
*Zombie Archery (7yrs +) (15 mins)
*Spider Laser Clay (7yrs +) (15 mins)
*Krazi Karts (7yrs +) (15 mins) New
* These activities are only available to Full Pumpkin Passport holders only
The Mini Pumpkin Passport | Ages 3+ | £14
For 10 Halloween Experience Activities
A Mini Pumpkin Passport is suitable for all ages 3yrs + (not just for children!) and allows entry into all of the full Halloween Experience activities except for the Zombie Archery, Spider Laser Clay and Krazi Karts.
Allow 3-4 hours to complete.
Add to this a huge free adventure playground, a great café and restaurant and 30 acres of stunning grounds - there is surely only one place to be this Halloween!
Adult Supervision: Children under 11yrs must be accompanied by a supervising adult with their own Mini or Full Passport. An adult with only a Mini Pumpkin Passport can supervise a child (7-10yrs) with a Full Pumpkin Passport taking part in Zombie Archery, Krazi Karts or Spider Laser Clay shooting but they will not be able to enter the activity area nor participate. So a supervising adult can buy a Mini Passport rather than a Full Passport if they don't wish to participate in these three activities. 
Children under 3yrs go free but have to be accompanied by an adult Pumpkin Passport (full or mini) holder.
---
NEW for 2020!
Mini Tractor Pumpkin Farmer (3-6yrs) (15mins)
Try your hand at being a mini tractor pumpkin farmer. Ride on your pedal tractor along the pumpkin path picking up smaller pumpkins on the way.
Woodland Faerie Trail (All ages – faerie believers only)  (20-30 mins)
You've probably already heard of the faeries that moved in to our enchanted Wishing Tree Wood during lockdown? Well they've now be joined by some Halloween horrors. See if you can spot them lurking around the faerie houses!
Krazi Karts (7ys +) (15 mins)
Replacing our previous fun Crazi Bugz our new Krazi Karts are electric pedal-assisted go-karts. The faster you pedal the more electric power you get and the faster you go! These fantastic krazi karts are big enough for adults too, so why let the kids have all the fun!
---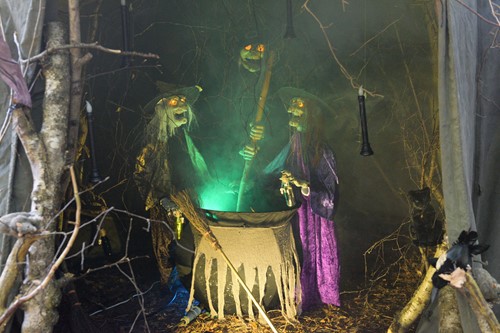 Booking your Pumpkin Passports

Please book your Pumpkin Passport online in advance. Numbers are limited and there is no guarantee there will be any available on the day.
This year you need to book a start time slot when you book your Pumpkin Passport and you can only start your activities after that time. Start times are at 10am, 11am, 12pm, 1pm and 2pm. With additional times at 3pm and 4pm on the 31st (Halloween) only.
Some of the activities are for full Pumpkin Passport holders only (please check age guidance for those activities)
Only Pumpkin Passport holders will be allowed into any of our activities, there are no Handholder badges this year and no spectators will be allowed into any of the activity areas. Children under 11yrs must be accompanied by an adult with a valid Pumpkin Passport (full or mini depending upon the activity). We have to be very strict on the numbers allowed into each area.
If you want to experience the Haunted Forest after dark please book a later start time slot for your Passport, particularly on Halloween night itself. We recommend doing the Haunted Forest last if you are in an afternoon slot and if you want it to be very scary.
Sunset Times (approximately): 21st to 24th 6pm. 25th – 31st 5pm.
Closing Times 21st to 30th 6pm. 31st 7pm.
Collecting your Pumpkin Passports and booking activities when you arrive
You can pick up your pre-booked Pumpkin Passport in advance from Reception in Brockhole House, or on the day from the designated Passport Pick Up Point.
Please allow 20-30 minutes to pick up your passport before your start time as you have to book time slots for some of the activities and there may well be a queue.
The only activities that can booked without a Pumpkin Passport (subject to availability) are the Haunted Forest, The Giant Pumpkin Trail and Graveyard Golf. If you just want to do any of these you will need to buy an individual ticket on the day only from one of our ticket offices.
No cash payments will be taken on site so please bring valid payment cards with you (we don't accept American Express).
A time slot for number of activities now need to be booked in advance when you pick up your Pumpkin Passport on site, as there are limited numbers in each time slot. You will need to book a time for Storytelling, Professor Pumpernickel and for The Wicca Workshop of Arts & Crafts.
For all other activities just go directly to the activity with your Passport!
We've made a few changes this year
Please note this year nearly all of our Halloween activities will be open to Pumpkin Passport holders only, so that we can safely manage the numbers attending. There are no Handholder badges or spectators allowed this year.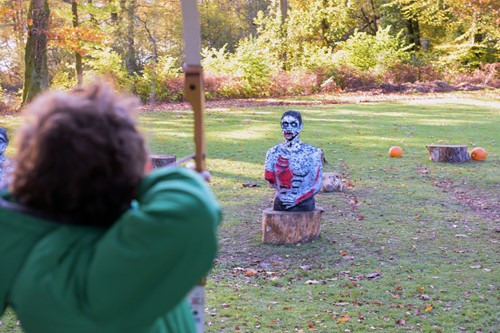 A little bit of extra info
We have a few tips to make your Halloween Experience at Brockhole the best it can be:
Activities and Parking
Between the 21st and 31st October Brockhole will be completely taken over by ghouls, ghosts and goblins for the annual Brockhole Halloween Extravaganza - and the only activities available (apart from Treetop Trek and Nets) will be those that form part of The Pumpkin Passport.
The free Adventure Playground will still be open to all, as will the cafés and restaurant.
Parking priority will be given to those who have booked a Pumpkin Passport or who are pre-booked onto Treetop Trek or Nets, and it is very likely there will be no other spaces available after 11.00am.
Eat & Drink
All of Brockhole's usual food and drink outlets will be open, including our fantastic outdoor BBQ.
Our main café is now table service only with a large outdoor terrace but only limited seating inside, so whilst this is absolutely great for a more relaxed meal, the café is likely to be full around lunchtime.
If you want something a bit more special and to guarantee a table with a view, why not book online for Lunch or Afternoon Tea in The Gaddum restaurant where the food and view are amazing.
You will need to book for The Gaddum in advance, maximum groups of 6, and no dogs are allowed.
Queues
It is very likely that there will be some queues for each activity. Please respect social distancing and be kind and patient with our team and each other.
Be Prepared
Torches - If your session is likely to finish after dark please bring torches
Clothes & Footwear - Most activities are outside so please dress warmly and bring outdoor footwear suitable for a wet woodland trail
Waterproofs - If it is raining you will need waterproofs and/or umbrellas
Weather/Refunds/COVID
Book with confidence – if the event is cancelled due to new COVID restrictions we will guarantee full refunds to all who have booked.
Bad Weather - all activities will run even in the rain – only thunder and lighting and severe storms will stop us! As we say in the Lake District, there's no such things as bad weather, only the wrong clothes.
No refunds within 72hrs (of your booked time slot) – unless cancellation of the event is made by Brockhole, or due to further COVID restrictions.
COVID – we are fortunate that most activities will be outside with limited numbers and there are a number of changes we have made to keep everyone safe. Restrictions will be in place, so please respect social distancing at all time bring a face mask and be kind and patient. Restricted numbers on activities might mean more queuing time.
Activity Cancellation – if an individual activity is not available, due to equipment failure or other reasons, then we may substitute an alternative activity or passport holders will be allowed to do another activity twice to compensate. Refunds will not be given due to the loss of only 1 or 2 advertised activities.
Masks - You may be required to wear a mask in a small number of the activities (eg storytelling) - so please bring a mask with you. You will need to wear a mask when entering the shop or entering other indoor social spaces.