Event Ended
Autumn and Winter Art & Craft Workshops
Date: 21 Sep - 17 Dec 2020
Start: September 21 2020
Welcome back to Brockhole and our new season of Art & Craft Workshops for Autumn/Winter 2020!
Our varied range of Creative Workshops are ideal for beginners or anyone with a love of making. All participants will be 2m apart with their own materials and equipment in a large well ventilated room.
Craft courses will run with new covid-safe measures in place and smaller class sizes; to keep you safe and allow for a relaxed and enjoyable experience, where you can let your creativity flow!
For all of our current workshop safety precautions please scroll to the bottom of this page.
All materials and equipment are provided for all of our creative workshops.
FREE Parking included!
Come and get creative with us!
'Crafternoon Tea' - A crafty treat to remember
Treat yourself to the perfect day out - an exciting creative workshop and a delicious Afternoon Tea in our stunning Gaddum restaurant or as we like to call it 'Crafternoon Tea'. Just select 'Crafternoon Tea' when booking your craft course and call The Gaddum to reserve your table on the date of your choice.
And the cherry on top of the homemade cake?.. This deal gives you a special 10% discount on both the workshop and the afternoon tea. Available on Thursdays, Fridays and Saturdays. 
Pick your Art & Craft Workshop at Brockhole:
Discover Linocut Printmaking
Explore the exciting art of linocut printmaking; learn how to design, carve and print from your own lino block with beautiful results.
Price £28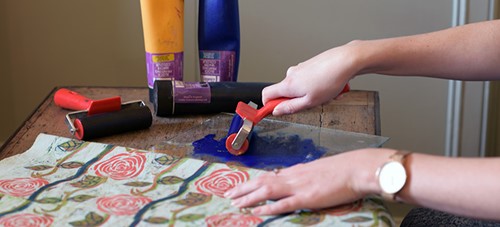 December
Tuesday 8th 10.30-1.30

Glass Mosaic
Learn how to use glass pieces and a mosaic technique to create a decorative glass panel with a stained glass window feel.
Price £25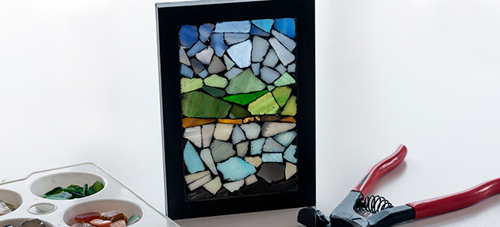 December
Tuesday 15th 10.30-1

Mosaic Creations
Choose between making a stunning mosaic panel decoration to hang in your home or a pair of coasters using traditional mosaic techniques.
Price £28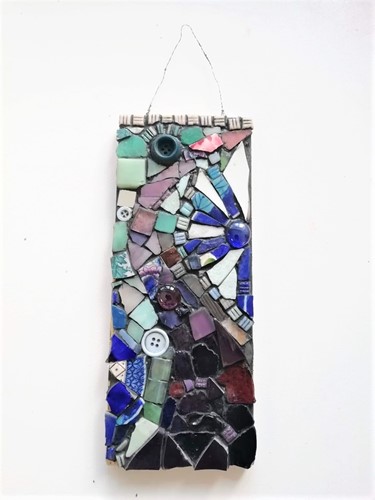 December
Wednesday 9th 12 - 3.30
(includes 30 min lunch break – please bring your own lunch)
Thursday 10th 10.30 - 1.30

Autumn Felt Wreaths
A textile twist on the traditional natural wreaths– create a charming miniature wreath using felt and wire, with either an Autumnal theme.
Price  £20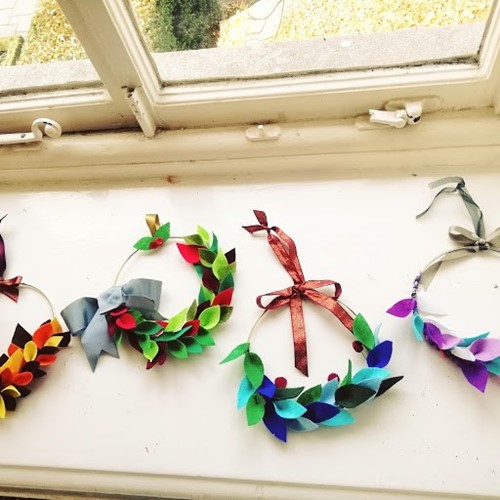 October
Thursday 8th 1-3

Fabric Wall Hanging
Create a lovely patterned fabric wall hanging, using fabric painting, printmaking and stitch, along the themes of Botanical, Autumn Harvest or Winter Wonders. (These classes will include a 30 minute lunch break – please bring your own lunch)
Price £38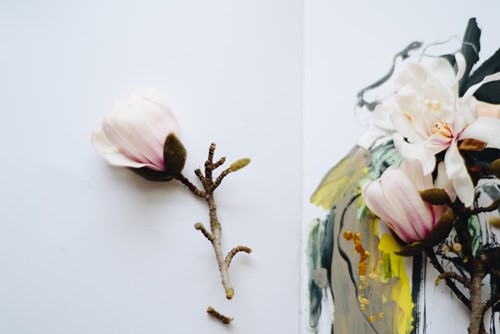 November
Wednesday 11th 10.30 – 3 (Autumn)
Wednesday 25th 10.30 – 3 (Winter)

Painted Clay Landscape
Create a colourful abstract landscape using ready-made clay pieces, which you will hand paint and fix into your eye catching finished piece.
Price £25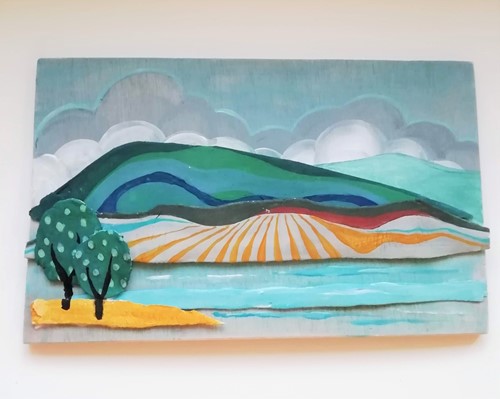 December
Thursday 3rd 10.30 – 1

Print, Paint, Collage
Learn how to use experimental painting techniques, printmaking and collage to create a beautiful layered mixed media piece.
Price £25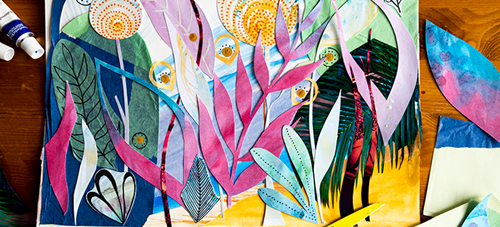 December
Wednesday 4th 11.00 - 1.30

Festive Craft Courses
Linocut Gift tags and Felt Present Toppers
The perfect finishing touch for your Christmas presents to loved ones this year – learn how print your own gift tag pattern using the exciting technique of linocut printmaking, and a lovely textile present topper.
Price £25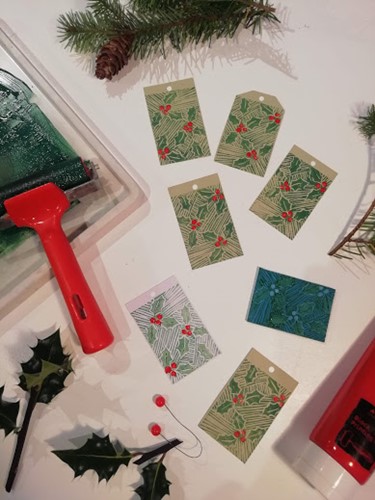 December
Thursday 17th 10.30-1

Linocut Christmas Cards
Send some extra special handmade Christmas cards this year – learn the art of linocut printmaking and make your own original festive prints.
Price £28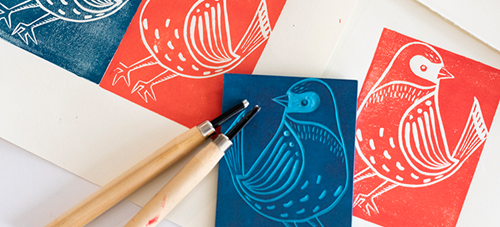 November
Tuesday 17th 10.30 – 1.30
Monday 23rd 12 – 3.30 (includes 30 minute lunch break)

Christmas Felt Wreaths
A textile twist on the traditional Christmas Wreath – create a charming miniature wreath using felt and wire.
Price £20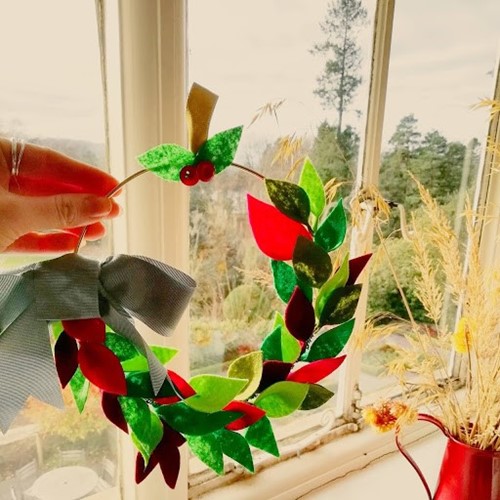 December
Wednesday 16th 1-3

Handmade Christmas Decorations
Get into the festive spirit in our creative workshops this December where we will be making all sorts of charming handmade decorations with a range of lovely materials.
Price  £20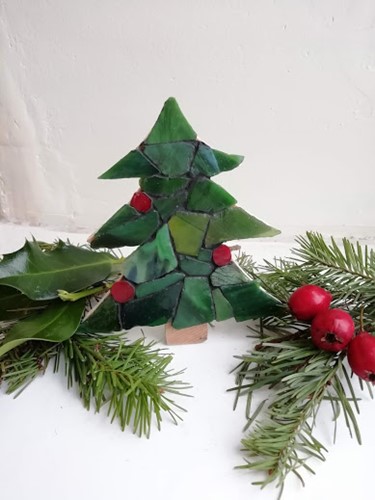 December
Saturday 5th 10.30-12.30
Saturday 5th 2 - 4pm
Monday 14th 1-3

CRAFT COURSES COVID-19 SAFETY MEASURES
Please adhere to our current measures to keep you and others safe:
Wear a face covering on arrival and when moving around the building. This can be removed once seated in the workshop.
Please bring your own apron if you wish to wear one and your own pencil to draw with if possible
Arrive at the classroom no sooner than 5 minutes before the start of the session.
Sanitise your hands on arrival and before/after touching equipment
Participants will be directed to their own separate desk and chair appropriately spaced from others.
Your tutor will have access to visors or face coverings and may ask you to recover your face at times during the workshop.
Windows will be open to increase ventilation so you may need to bring a warm layer.
Individual equipment sets will be given to participants as much as possible. If equipment must be shared it will be cleaned between users.
Food is not allowed in the classroom, for workshops that include a lunch break these will take place outside of the classroom.
Please exit the class promptly to ensure efficient cleaning can take place before the next session.

Maximum number of participants per workshop is 6 people. 

If you begin to show any signs of Covd-19 symptoms please do not attend the workshop, contact the Brockhole info team and you will be issued a refund.

If you cannot attend the workshop due to Covid-19 restrictions in your area please inform the Brockhole info team at least 48 hours before the workshop and you will be issued a refund.
For any further queries please contact course leader Rosie directly via email at rosie.meredith@lakedistrict.gov.uk
Cancellation Policy : Cancellations must be made at least 48 hours prior to start of the workshop for you to be entitled to a refund.
Please see further details of our policy on the follow page: https://www.brockhole.co.uk/plan-your-visit/