Meet the team at Brockhole on Windermere
15 minutes of fame - Dan Nield, Lakeshore Supervisor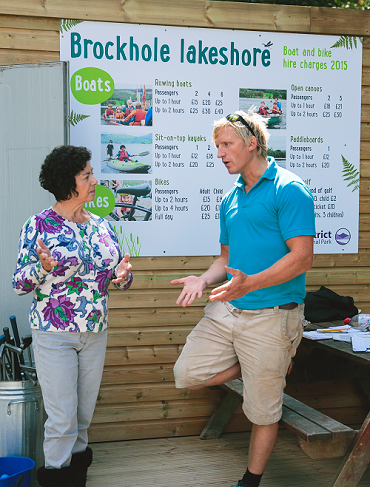 We think it's about time we found out a little bit more about some of the amazing team we have here at Brockhole on Windermere. From gardeners to activity instructors, the office team, the information team, chefs and more; we have them all right here on site, working hard to make Brockhole the perfect day out in the Lake District…
So, we are going to catch up with different members of our team and find out just what they do here, why they love the Lakes and some sneaky top tips to make your visit to Brockhole extra special.


Q: Hi Dan, welcome to your 15 minutes of fame! Tell us about your role at Brockhole in a nutshell?
Hi everyone, I am Dan Nield and my role is Lakeshore Supervisor - so basically I look after all the water sports including sit on top kayaks, open canoes, rowing boats, and stand up paddle boards!
We also have bikes for hire, mini golf, lawn games and new for 2016 "Have a go at Archery" sessions which we are all really excited about…

Q: Wow, that's a lot of activities! If you could choose one what would it be?

If I could choose one activity to do it would be the bike hire. During peak times our bike hire includes a free trip on the Windermere bike boat where you can travel from Brockhole with your bike to the western shoreline.
From here there is so much to explore including Wray Castle, Hilltop the home of Beatrix Potter and the newly refurbished Claire viewing station. I grew up on this side of the lake so love people to enjoy it. And the really great thing is a lot of it is car free! Check out the "What's on guide" for dates of our guided rides.
Q: The new archery sessions for this year sound good, can anyone take part?

Yes Archery is a new addition here at Brockhole for 2016. It's situated right on the shoreline of Windermere and is proving to be really popular. It's available to anyone over the age of 7, and is a great introduction to the sport. You can book online and it's available every day through the school holidays.

Q: What's the best bit about working here at Brockhole?

For me the best bit about working here is the views. There's not many offices in the world as scenic as mine!
Q: Apart from Brockhole, where is your favourite place in the Lakes and why?

I love a little hill located in Bowness-On-Windermere called Brantfell, very little effort for an amazing panoramic view of Windermere!

Q: What is your favourite thing for lunch from the café?

Well during the colder winter months I love the hot home-made soup and warm crusty rolls from the café but in the summer, definitely a sandwich or panini from the lake shore cabin and it is just a few meters away!
Q: Tell us a secret about Brockhole or something we might not know…

just a few hundred yards off our jetties is the deepest part of the lake where it drops off to 220ft. Who knows what's lurking?!
Q: Thanks Dan! Is there anything else you would like to add?
Yes - find out more about some of the activities me and my lakeshore team are offering this season including archery sessions, mini golf, boat hire and bike hire…and don't forget to say hello next time you are here!