The Kitchen Garden Project #2
Harvesting and cooking
As you may be aware the Kitchen Garden has been flourishing over the last few months and has been a visual delight.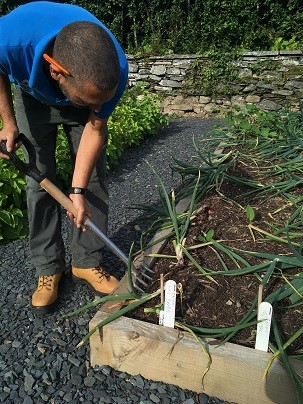 This certainly would have been enough, and yet on 5th August we harvested our first crops with a beautiful bounty of butterbeans, more potatoes than you could fit in your pockets and onions that could make you cry they were so big, and cry we did. (Whilst chopping up a stir fry medley.) After frying them up the Kitchen Garden Club attendees were asked to judge the best potatoes. It turns out the Duke of York won in flavour but the Salad Blue had the texturehave no need for salt and pepper as each vegetable brought its own flavour - especially the courgettes.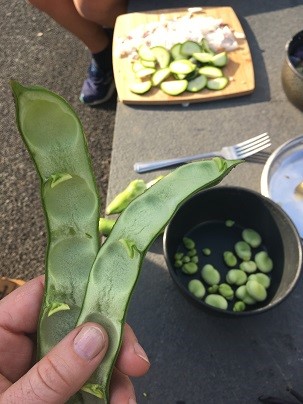 An assortment of vegetables have made their way to the Gaddum restaurant and we hope to be topping up their fruit and vegetable orders throughout the year. So perhaps next time you eat with us at Brockhole you will sample some of our home grown goodness.  Alternatively, join us at The Kitchen Garden Club next month where we will be cooking up some pan fried goodies to taste as well as decorating our newly refurbished bug hotel.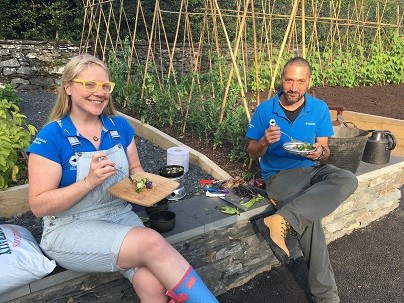 Heritage Workshop #2 - Kendal Archives
The heritage team continued their research this month by taking a trip to Kendal Archives where we looked at the original plans for Brockhole site and other Thomas Mawson estates. Another thing that we did get to see was a photograph taken by Rupert Potter of the Brockhole Kitchen Garden, which provides a (very small!) insight into the relationship between the Potter family and the Gaddums, who commissioned the building of Brockhole. Volunteer Kevin had found some fantastic evidence from the British Newspaper Archive about the use of Brockhole as a convalescent home.
Next steps...
Kevin to pursue research into the Merseyside Hospitals Council links with Brockhole to see if we can find out more about the kitchen garden via that route.
Jeremy to pursue the title deeds at the LDNPA office, to see what they might tell us about the Kitchen Garden.
Richard to explore comparator kitchen gardens and approach to landscape design.
Linda  to explore contemporary recipes.
We are now liaising with the Armitt Museum and Library to see what we might be able to find out from the Beatrix Potter archive – Beatrix kept diaries and so there may be something in the papers about the kitchen garden (fingers crossed). I will be arranging for our follow-up session to take place at the Armitt, hopefully for the middle of September.  If you are interested in attending please contact: hayley.curbishley@lakedistrict.gov.uk
Learning and Engagement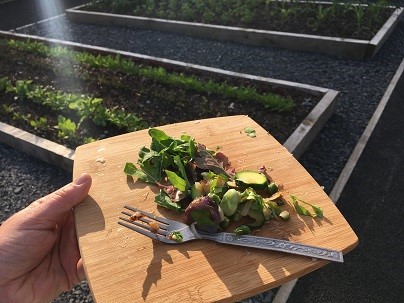 After a flurry of school activities we are now pursuing other avenues of engagement and out reach for the project. A new group of volunteers are meeting together this week to discuss, plan and deliver Learning activities in the garden and we are hoping to trial these with local community groups in the autumn.  If you know of a group that may be interested in utilising the garden, learning possibilities or would just tlike to get involved the do get in tocuh!