Spring success at Brockhole with our Head Gardener Iain Turnbull
Iain shares more of his secrets for spring gardening success.
We thought we'd ask our Head Gardener, Iain Turnbull for his expertise so that we can attempt to make the most of our gardens this season, afterall who knows, we may even be able to rival the beautiful Brockhole gardens one day! Over to Iain for the spring update...


Daffodils, daffodils...
It doesn't feel much like Spring at the moment.  There is snow on the ground, slowly melting and slushy rain falling down.  However, the next few days look much more like it with lots of sun forecast.  But with bulbs blooming and shrubs starting to leaf up, winter is certainly on the way out.  Even if I did have the fire on last night!
It's been a busy time here since Christmas, and has passed in a blur.  Snowdrops  and winter aconites have come and gone, we've added more and divided some established clumps to increase stock.  Little dwarf Irises, especially 'Katherine Hodgson' and Iris aucheri (flowering right now) have brightened up previously bare ground. 
I suppose it's thanks to Wordsworth that the Lake District has become synonymous with Daffodils and we're no different.  Lonely clouds and all that.  Our big drifts of Narcissus pseudonarcissus are flowering well and looking great at the moment, as are 'Jetfire' and 'February Gold' – two of my favourites.  There are literally thousands of daffodils to choose from, small, tall, subtle or showy depending on your taste.
The dogs tooth violet's (Erythronium) are beginning to flower or the leaves are showing and flower buds forming.  We grow a strong, popular cultivar called 'Pagoda' which is yellow flowered.  Popular usually means easy to grow!  The species Erythronium dens-canis with more pronounced mottled leaves and pinkish flowers is even more beautiful, but a bit trickier to establish.
We've added a good number of Hyacinths in the shop and cafe which have looked great and smelt very fragrant – a bit too fragrant for my tastes but I guess you can't please everyone! It's definitely not a weed but Primula denticulate 'Lilac' loves our weather and soil.  Sun or part shade it spreads well, makes decent ground cover with lilac coloured flowers arranged like little golf balls in spring to early summer.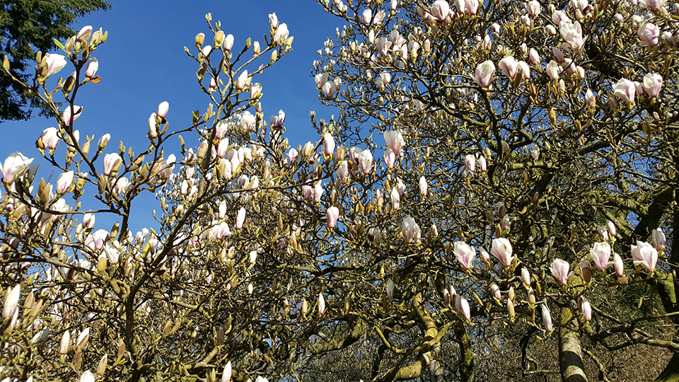 Magnolia x soulangeana in the Brockhole garden (above)

Prunus incisa 'Kojo-no-mai' may be a mouthful, but one worth having.  Its covered in dainty rose pink flowers at the moment.  Its meant to be smaller shrub, but ours is about two metres high!  With fantastic autumn colour its perfect for a small garden, or a large one like Brockhole.  We're very tempted to add more spring flowering cherries to the gardens, just got to decide on our favourites.
As for our camellias, Azaleas and Rhododendrons it is still a little earlier although a few are flowering.  R. Arboreum by the old telephone box does look stunning at the moment.  I'm looking forward to the others to flower and earn their keep in the garden.
We've had a spruce up!
The last few months at Brockhole have had added interest as we have had builders, scaffolders and painters running around the old White house.  It's had new render applied, a paint job, essential repairs to various windows , gutters and chimneys and now the old girl looks rather fine.  We've had to rip out a lot of plants along the terrace and are currently tidying up the beds to replant later on in April.
This time of year is always great for a Gardener.  Lots of promise and potential, formulated plans to finalise and launch head and feet first into the rest of the season! Come and take a look around, the team and I would love to see you, join us for our next garden tours (they even include an afternoon tea!)


Garden Tour and Afternoon Tea - Meet the experts 26th April - book online
Garden Tour and Afternoon Tea - Meet the experts 10th May - book online
Garden Tour and Afternoon Tea - Meet the experts 24th May - book online