Famous artist creates sculpture to celebrate Lake District World Heritage status
We're very excited to welcome a new striking sculpture to Brockhole this summer. Cumbria based artist Charlie Whinney has been commissioned in celebration of the Lake District's newly awarded UNESCO World Heritage status. Come and see the sculpture itself next to the Brockhole lake shore!
The 'Mountains We Made' sculpture has been commissioned by the Forestry Commission England, Lakes Culture and Lakes Alive. It has been created from a series of ten steam bent sections. The oak for the sculpture has been sustainably sourced from Grizedale Forest in the Lake District.
Mountains We Made will be touring and we're delighted that Brockhole is the first to display it! The sculpture will next be displayed at the Lakes Alive Festival on 8 – 9 September. In January 2018 it will go back home to Grizedale Forest as part of the forest's famous permanent collection.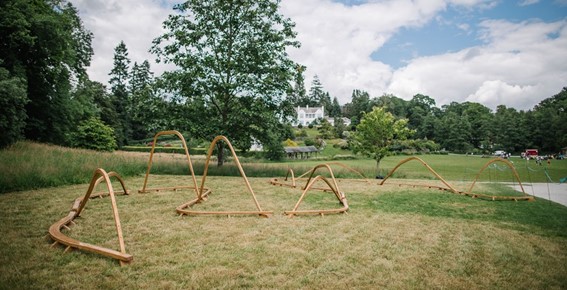 The Lake District has inspired many of the world's greatest artists, writers and thinkers over the years. The landscape is still a source of inspiration today challenging the traditional perceptions of what culture in the Lake District means.
Artist Charlie Whinney says "Mountains We Made is inspired both by the landscape and the layering of human intervention. There is a layering process and journey of production which I wanted to bring together in a new landscape in which to think, play and wander through."
Charlie Whinney's body of work includes large-scale installations in Asia, America and Europe working around themes of sustainability and the environment.
We would love to see you enjoying the sculpture at Brockhole, share you photos using #discoverbrockhole and we'll reshare on social media!