Around our garden with Iain Turnbull
An insight into our beautiful gardens by Head Gardener Iain Turnbull.
The sun has been shining as I sit in my own garden, contemplating doing some more tidying and pruning, but first, let's talk about Brockhole…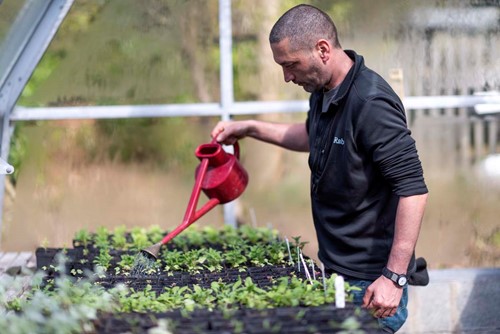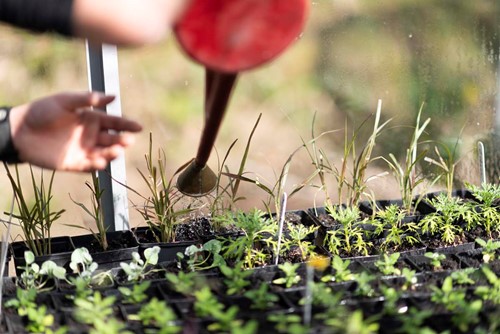 Isn't this time of year amazing!  A bit of sunshine, warmth, longer days, cool winds.  Too early for shorts, but give it a week or two – hopefully.
As with every year, we've been busy at Brockhole! Lots of snowdrop and aconite planting in February, plus the usual tidying and clearing of beds, with necessary maintenance and weeding throughout the garden. April sees a constant stream of bedding plants arriving daily, in preparation for the summer, all in need of potting up and some TLC in our glasshouses until late May/early June when we plant them out.
The start of this year in particular has been a hive of activity; since January, we've had teams of contractors on site to help improve our drainage around the grounds and rebuild and form a new Kitchen Garden. Apologies if anyone thought it got a bit muddy for a while, but it's all finished and looks great. We are delighted with how the Kitchen Garden is looking and I personally can't wait to start the planting for the project, with the aim of getting our own produce on to customer's plates this year.
With help from our colleagues from Park Management, we've also achieved loads in improving the main paths through the meadows and by the lake for access and safety.
Plants of the moment
Primula denticulata – an early and smaller primula with golf ball shaped and sized flowers. Lilac, Purple, white and red varieties are available. Quite prolific, seeds freely and easy to divide after flowering.  Sun or a bit of shade, but needs plenty of moisture.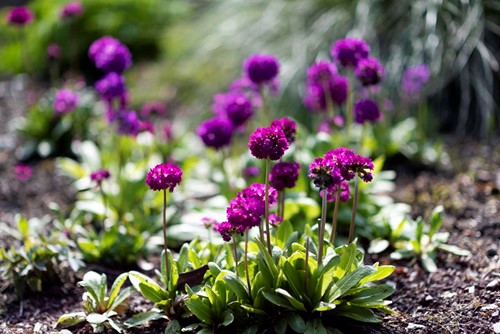 Magnolia x soulangena – the most common and easy spotted at the moment. Eventually forms a medium size tree.
Magnolia stellata – currently covered with star shaped, white flowers. Generally a large shrub or small tree.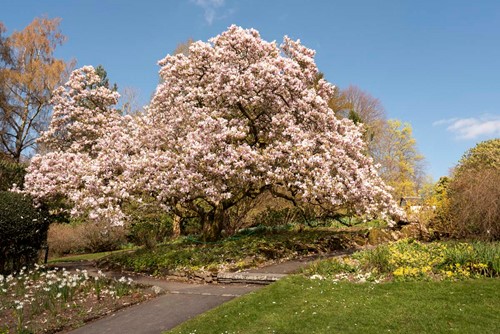 Anything with buds and trees greening up. Everything seems to be changing daily at the moment.
Narcissus 'Thalia' – a plain white daffodil that flowers April into May. Reaches around 50cm in height and has slightly reflexed petals. Good in sun or shade.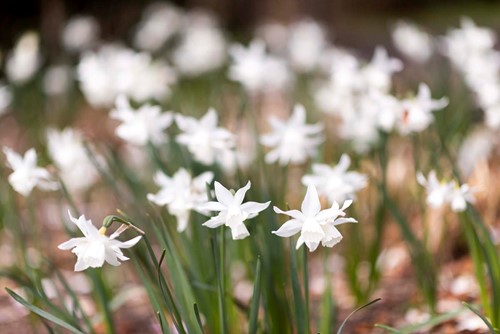 Podophyllum peltatum – a little woodland plant that flowers in early summer then has green fruit. I think it looks best as the lobed leaves emerge and come out. Known as the American Mandrake.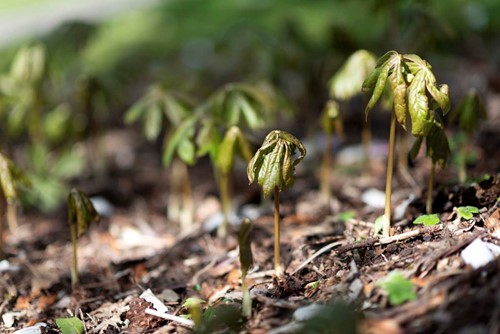 Brunnera macrophylla 'Jack Frost' - similar to Forget-me-not in looks, this low growing perennial has deep blue flowers over attractive heart shaped green and white speckled leaves. Makes a really nice groundcover, but doesn't spread too madly. Likes to be cool and moist, with some shade.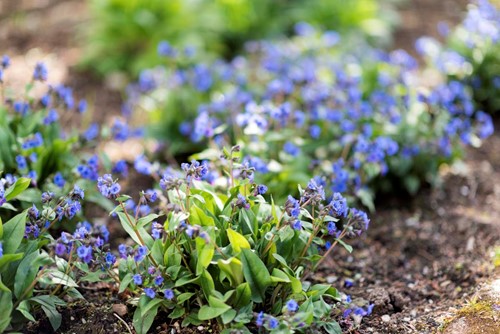 Pulmonaria angustifolium – the plain green leaved one with dark blue flowers, they always look good in spring. Likes moist shade and spreads slowly.
Omphalodes 'Cherry Ingram' – similar to the Brunnera but smaller, this low growing perennial has deep blue flowers over attractive heart shaped green leaves.  Makes a really nice groundcover, but doesn't spread too madly. It's a coincidence that I have picked three blue flowering plants, but I like them all!
Sanguinaria Canadensis – Bloodroot has distinctive kidney shapes, blue-green leaves and white cup shaped flowers. Another small American woodland plant, 15cm x 30cm but worth having for more unusual spring interest.
What's next?
Prune all Fuchsias
Weeding and bed prep in readiness to mulch later in the month – a bit late but working around the busy Easter influx of visitors enjoying the site
Planning and preparing planting areas
Lots of seed sowing for the kitchen garden and soil/bed preparation
A bit of last minute hedge cutting
Regular grass cutting and edging, it's that time of year.