Bright Stars at Brockhole
We have recently welcomed children from Victoria Academy, Barrow, who chose Brockhole to celebrate their fantastic achievement.
Pete Davison, from Victoria Academy, tells us more…
Jayne from Oxley Developments, approached Victoria Academy to inspire future entrepreneurs through The Centre for Leadership Performance. Offering the school £50 to start up a new business with the children.
The children then brainstormed ideas and came up with The Aquatic School of Art selling marine-themed coasters that they would make in our kiln as well as artwork and friendship bracelets.
They split themselves into business departments and visited Oxley Developments to meet Darren the MD in the boardroom.  He was so impressed with their business plan he pledged £100 if they set and met a profit target.
The children set a target of £400 and went about producing their products ready for two big sales days, one at Oxley's and the other a Community Arts and Craft Fayre in the school hall.
Both events went off brilliantly with all products sold out and a total profit of £770. The children chose Macmillan Cancer Research as their charity to donate half the profit too. They decided to spend the rest on an adventure day out at Brockhole, Windermere, and have invited their parents to join in their celebrations. Eight lucky children and their teacher Mr Blake are visited Workington to receive their Bright Stars Best Community Involvement Award.
Overall the children got so into it because it is real. The literacy and maths learning involved was intense because of the authenticity of the project. They now realise what you can achieve if you all work together and utilise everybody's different skills towards one goal.
We are greatly indebted to The Centre for Leadership Performance and Oxley Developments for enabling this fantastic experience for the children to happen.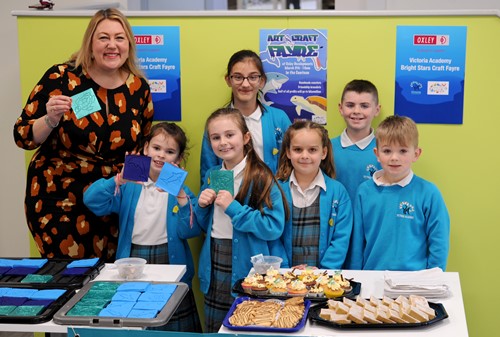 What an incredible project, we are delighted that the children had an enjoyable day with us to celebrate their success.