5 Quirky Lake District Heritage Facts...
Have you 'herd' the Lake District is bidding for World Heritage status?
We believe the Lake District deserves worldwide recognition. That's why in 2017 we will bid for World Heritage Site status, placing the Lake District alongside the Taj Mahal, the Tower of London and the Great Barrier Reef. We've brought the smiling sheep giftware brand Herdy on board help us spread the word, prompting people to say 'I've herd' in support of the bid.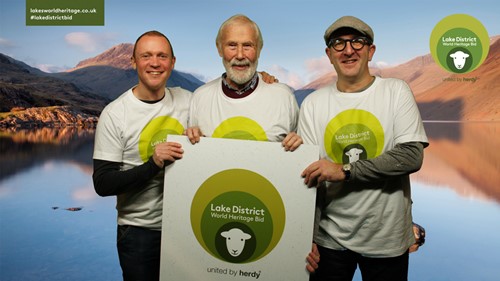 Here's a few facts about the Lake District you probably never knew!
FACT 1:
Herdwick sheep arrived with the Vikings! DNA results show Nordic ancestry from the 12th century.
FACT 2:
Seathwaite in Borrowdale is one of the only sources of pure graphite in the world. It was used to put marks on local sheep and later used in pencils
FACT 3:
Around 250 square miles of Common Land across the Lake District has been collectively farmed for generations – that's over twice the size of Birmingham
FACT 4:
Beatrix Potter used the money she earned from her famous books to buy farms in the Lake District and breed Herdwick sheep, helping preserve the traditional farming way of life. After her death her farms were donated to the National Trust.
FACT 5:
Tourists in the 18th century enjoyed taking boat trips on Ullswater to hear the sound of canon fire echoing in the fells.
Find out more information and please show your support by 'backing the bid'