Meet our Brockhole and Lake District Lodge holiday competition winner
It is always great to hear from our competition winners, this time it is the turn of Jill Justice and family from the North East...
Jill won a holiday to the Lake District courtesy of ourselves at the Lake District National Park and Lake District Lodge Holidays. Read on to find out what they got up to…
"With great thanks to Brockhole, my family and I enjoyed a lovely break in the Lake District after finding out we were the winners of their 'Grandpa's Lodge' competition! What an amazing prize for myself and my little family to win! Not only is the Lake District our most favourite place to holiday but it was also my 50th birthday week (I will stretch my birthday out as long as possible).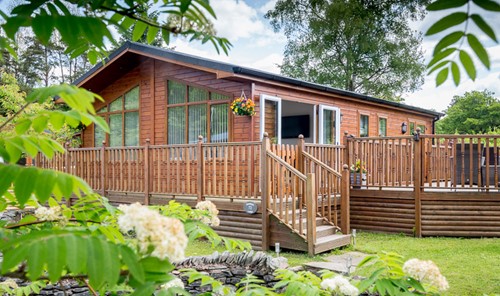 Grandpa's Lodge at White Cross Bay (above) was a home from home, it was clean, tidy and very well equipped. The park was in an ideal position for us to get around the central Lake District and to top this off we had amazing weather for the duration of our stay.
We also won a day of activities at Brockhole, we chose Treetop Trek and kayaking. We started the day off by flying through the trees with Treetop Trek, there was seven of us in our group so this was ideal as no hanging around (no pun intended). We managed to get around the first obstacle, but I have to admit I was that scared stiff I had to get back on trusty ground. My son, Ben, challenged the high obstacles and thoroughly enjoyed his experience.
As it was my 50th birthday, I wanted to push myself out of my comfort zone so I was determined to join my son for the zip wire. This is a 250 metre long wire and is 14 metres high! So there I was, sitting there, heart beating out my chest, I closed my eyes, lifted my feet and I was off! It was brilliant, I actually now want to do it again and again.

-
Thank you to our guide for giving me the confidence and reassurance I needed, they were fantastic.
After all the excitement of the morning, we relaxed with lunch by the Windermere lakeshore whilst the boys enjoyed kayaking on the Lake. It was a beautiful sunny day and not a cloud in sight. I sat and chilled in the picnic area watching them have fun on the Lake, it was a perfect end to a fantastic day at Brockhole.
We all had a brilliant weekend and even managed to get out on the fells a few times with some lovely meals out in Ambleside and Bowness. So thanks once again for picking our little family."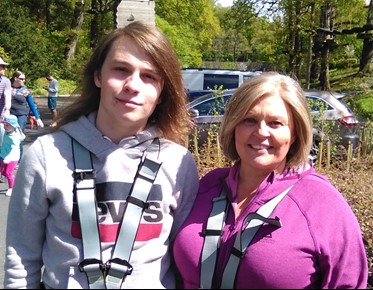 Photo of competition winner, Jill and her son Ben getting ready for Treetop Trek