The Cubby Hole - Soft Play Area
Price: Free
We're sorry but our soft play area will remain closed for the time being.
---
If you haven't seen our soft play area at Brockhole for a while you might just want to pop it to the top of your list - last year we were delighted to partner with the wonderful Fell Tarn Friends who have completely transformed our indoor space into a fantastic, colourful area for parents and toddlers alike! 
If you are looking for a fun space for the kids to burn off a little bit of energy whilst you take a seat and perhaps even have a takeaway coffee and cake break, The Cubby Hole is the perfect place to do just that. Our selection of wildlife themed soft play equipment is suitable for tots under 4 years old and all the walls are decorated with the lovable Fell Tarn Friends characters!
We asked Amy and Claire, the founders of Fell Tarn Friends to share their inspiration for the project with us:
"The brief was to create the designs to be printed onto vinyl boards, effectively becoming the walls of the indoor play area.
The lovely people at Brockhole wanted us to recreate the style of our Lake District Adventure book and include scenes of Brockhole, the grounds and of the surrounding mountains.

- Amy, Fell Tarn Friends Founder
So Claire got to work on the illustrations, scaling them up to fit perfectly onto the vinyl boards. The Felltarn Friends themselves are featured too – cycling, climbing, sailing and walking, showcasing all the fun to be had in the fells. Not only that, but we made 20 wooden Felltarn Friends for kids to play with and choose where to velcro the characters on the wall – brilliant fun!
The indoor play at Brockhole has now changed it's name to be The Cubby Hole! With lots of fun and very cute details such as the hand-painted stone wall and mini-door, it's easy to see why the Felltarn Friends refresh has gone down a treat with visitors to Brockhole. It's just perfect for toddlers to practise their skills in having a great time, and with the cafe (and shop!) right there too there's no excuse needed to pop in any day of the week. It's completely free too!"
Read the full blog on the Fell Tarn Friends website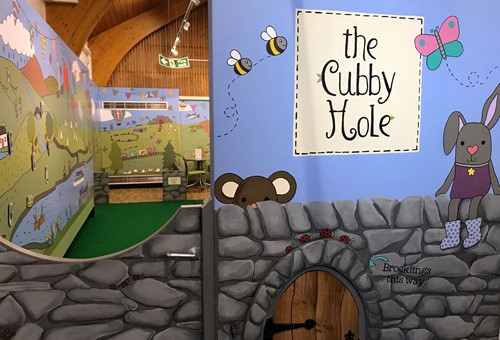 Photo above coutesy of Lakes Lux family blog - read more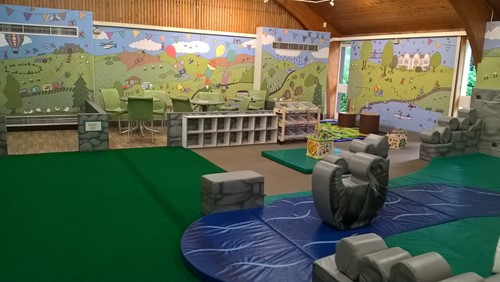 Don't forget we have so much at Brockhole to make your visit complete. Make sure you head over to the Cafe for a lovely slice of homemade cake and a coffee, take a look around the shop and of course make time for a stroll around the gardens and grounds!