Book now
Krazy Karts
Price: £13 - 25 minutes
How good are your driving skills? Time to show the adults how it's done?
Join us down at our Adventure Activities for our very latest Brockhole activity.
Using our pedal Krazi Karts with electric assist, take on our exciting gravel track against friends and family. Compete against each other by negotiating the obstacles and hit those apex's for the best lap to show who the real karting legend is. Yes, it's for grown-ups too!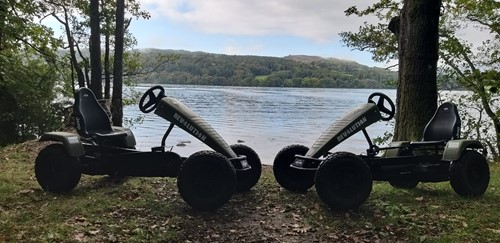 When?
We are available for activities on weekends and during school holidays up until April. April to September we will be open daily for activities.
 This is an all-weather activity. Please book online to view session times and availability. if you have any questions please email activities@brockhole.co.uk or call on 01539 446601.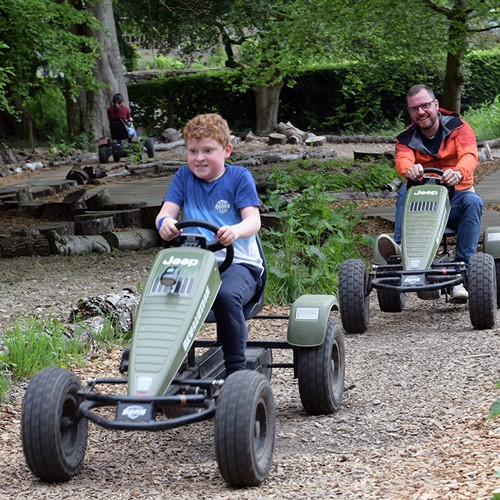 Who?
Krazy Karts is simply brilliant fun for the whole family and groups of any age (7yrs and up) - adult supervision is required for children under 14 years. Krazy Karts have a maximum weight capacity of 100kg. We also recommend a height of 125-210 cm in order to comfortably reach the pedals. Whether you are on holiday, visiting for the day, or looking for an activity for a celebration or team building event, Krazy Karts is a great option.
How to book
Each session lasts 25 minutes and costs £13.00
Book your Krazy Karts session online in advance as we we can't guarantee availability on the day. Places are limited for each session so please book early to avoid disappointment!
For private hire and parties please call 015394 46601 or e-mail  activities@brockhole.co.uk
Please note we cannot guarantee a parking space in our car park, so please leave plenty of time to park elsewhere (details here) but we try to give priority to those pre-booked onto an activity.