Paper Boats: Fragile Waters
14 Aug - 13 Oct 2019 
In Paper Boats: Fragile Waters, Caroline Stow presents eight series of prints and texts that explore the living waters of the Cumbrian lakes and the unique and delicate balance of their ecosystems.  Paper Boats are symbols of hope and journeys, but also of vulnerability.
 Working with local freshwater ecologist Dr Melanie Fletcher and cultural campaigner Johanna Korndorfer, Paper Boats: Fragile Waters is a collection of site-specific works that examine the complexity of the habitats created as water moves from the fells down to the lakes and finally to the sea.  It examines our impact on these landscapes and on the tipping point of their continued viability, encouraging visitors' awareness of how our behaviour can unwittingly put their continued survival at risk.
The exhibition includes multi-plate etchings and lino prints inspired by the movement and colour of the becks and streams; monochrome woodcuts and lithographic prints of transitional wetland habitats; print installations that take on a more physical presence in the exhibition space; and allegorical images of creatures, vessels, trees and water which consider the interdependence of the fragile ecosystem. These images are brought together with accompanying texts that explain the ecological significance of different aspects of the freshwater system. The juxtaposition of images and text aspires to build a greater understanding of the lakes through visual expression and scientific engagement suitable for a range of audiences.
Paper Boats: Fragile Waters encourages viewers to look differently at their surroundings and to combine their experiences of the landscape with an awareness of the microhabitats within. These mini-worlds contain organisms, plants and creatures every bit as breathtaking as the dramatic landscapes and skies.  Considering all the details of our surroundings deepens and enhances our experience and understanding.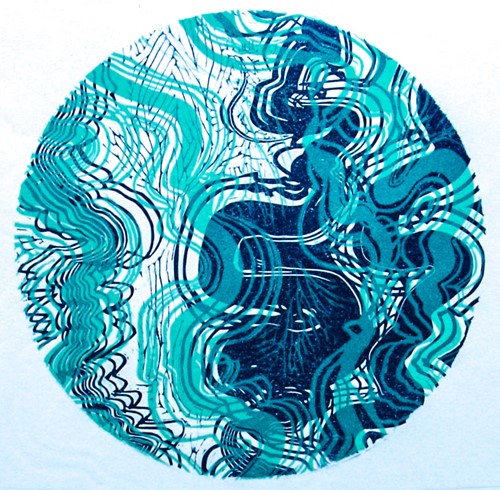 Artists Statement
Caroline Stow is an artist based in Cumbria, working across a range of mediums. Her current work is rooted in an interest in ecology, the balance of the ecosystem and our absolute reliance on the natural world. This has grown from the experience of living in an area dominated by water, and from developing an understanding of how the delicate balance of rain, watercourses, lakes and land has a profound effect on the life that depends upon it.
Caroline's practice is also informed by her Quaker convictions: that we must face the truth of the climate emergency, that we must understand that the natural world is not ours to squander and destroy and that we must begin to live our lives in a new radical simplicity.
Ideas and images are built up from a diverse range of sources collected and drawn by the artist directly from nature, from the museum and natural history collections and from laboratory samples. These and other investigations serve as the inspiration for new graphic tableaux.
Caroline uses printmaking to make and remake images, forming and dissolving connections across a picture plane. She is interested in making as an explorative process, which melds together materiality and reflective thinking. Testing form and line intuitively, she will often spend several weeks developing and refining a series of interlinked printing plates, before experimenting further with the mechanics of the printing process.  She aims always to work attentively to materials, colour and texture.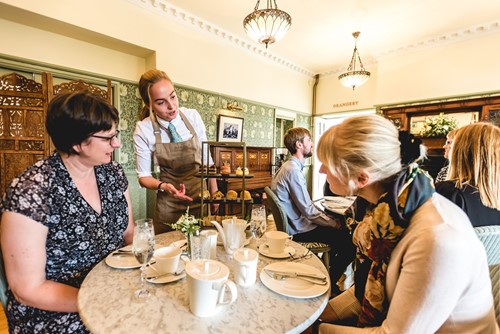 Why not discover our beautiful new Arts and Crafts inspired restaurant, The Gaddum here at Brockhole as part of your visit to the gallery? Enjoy Lunch, Afternoon Tea or perhaps an early evening meal (served until 7pm), the choice is yours. Find out more.