Book now
Brave the Cave
Price: £12 - 45 minutes
Dive into the darkness...
twisting and turning as you explore our exciting indoor caving tunnels!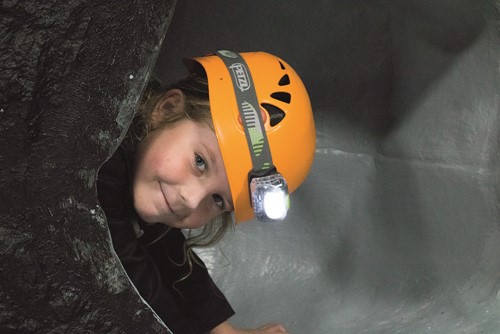 Your mission will start with a team briefing at the cave entrance as you get kitted up with a helmet and head torch, ready to take on the challenge. Cavers will be set a series of increasingly difficult challenges within the cave each time they enter, ranging from finding ancient cave paintings, to retrieving hidden creepy creatures, to navigating the cave in complete darkness. Badges will be awarded to all who succeed and Brave the Cave!     
Our caving experience is suitable for all adventurers aged 5+ and under 8s must be accompanied by an adult (who can book on and join if they wish!)
Activities are available outside of the holidays and weekends. Please ask about parties, groups and/or private activity days at the visitor centre.
Prices
Each caving adventure costs £12.00 and lasts around 45 minutes. Numbers are limited per day so pre-booking online is strongly recommended!
If you wish to book outside of holidays or weekends we need 48hrs notice. A minimum of 8 people is required to make a booking outside of our usual opening times. 
Caving checklist
The cave is not suitable for people with claustrophobia, epilepsy, restricted physical ability and children with impaired hearing would have to have a buddy system in place.
The cave is very narrow and has limited physical access into the cave to extract people. If in doubt please ask a member of the caving team.
There is a size restriction of size 40" – 42" waist and size 16-18.
Please wear casual clothing that allows easy movement, along with trainer-type shoes.
Please arrive ten minutes before your allotted session is due to start.  Late arrivals may not be admitted once the session has started.

How to book
Book online or call us on 015394 46601. You can also book on the day, although pre-booking is recommended!
Brave The Cave is a dark and narrow crawling experience that is hugely exciting but also can be a bit scary.
We do not offer refunds to anyone who simply "does not like" the experience, due to the confined space or the dark, and would encourage you to check and be certain before booking.
Refunds can be made if the booking is cancelled 24hrs in advance of the time of the caving experience.
Refunds are only offered within 24hrs if the participant cannot physically fit through the test tunnels (see our guidelines on size). That judgement will be made by the member of the caving team.
If unsure please ask to see the cave before booking.
For private hire and parties please call 015394 46601
Parking is limited, we advise arriving up to two hours before your scheduled booking to allow time to find a space, particularly in peak periods (school holidays).
Caving parties and group bookings
Book Brave the Cave and make sure your next Birthday party ROCKS! We're offering the cave for exclusive private parties including a unique cave side picnic, a prize for every child, activity leader and personalised party to suit the age range of the group. Simply call or email us today to find out more. 
"Ewan and his friends had an amazing time! The instructors were friendly and professional creating a fun but organised party. The catering arrangements were perfect and everyone went the extra mile to make this a very special day.
I would not hesitate to recommend having a children's party at Brave The Cave!"
Philip Rowbotto
School and private party sessions require a minimum of 8 people (maximum 12 depending upon age) and last approx 70 minutes, or longer if food is included. We can accommodate school group bookings and private groups of up to 16 people.
We will try where possible to accommodate your party or group booking. If you are unsure of the details or would like to discuss your requirements, please do give us a call or email us today.