Event Ended
Special memorial concert - 26 Nov, by Jennifer Dyson and Elinor Nicholson.
Date: 26 November 2016
Price: £14.95
Start: 2.00pm
Join us for an exclusive concert as part of our Voices from the Somme exhibition and events on 26 November:
Special memorial concert by Jennifer Dyson and Elinor Nicholson, harp and flute duo from the Royal Northern College of Music. 2.00pm, £14.95 - booking essential.


Jules Massenet: Meditation from the Opera Thais Act II.
George Butterworth: Cycle of Songs from A Shropshire Lad
                     I.   Loveliest of trees
                     II.  When I was one-and-twenty
                     III. Look not in my eyes
                     IV. Think no more, lad
                      V.  The lads in their hundreds
                     VI. Is my team ploughing
Gustav Holst: Jupiter, the Bringer of Jollity, from The Planets
Traditional: Greensleeves, Danny Boy

Edward Elgar: Selection from the Enigma Variations
                       i.   Theme
                       ii.  Variation VIII, W.N.
                       iii. Variation IX, Nimrod

Ralph Vaughan Williams: The Turtle Dove     Joseph Jongen: Danse Lente, Op. 56b

Jennifer Dyson - Flute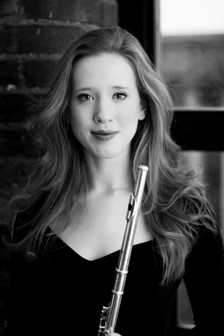 Jennifer studied at the Royal Northern College of Music where she studied with Richard Davis (principal flute, BBC Philharmonic) and Joanne Boddington (Hallé), where she received awards such as the Pat Barney Flute Prize, Trevor Wye Prize for Chamber Music, the June Emerson Wind Music Launchpad Prize and finalist in the Cross-School Chamber Prize.  She was also a finalist in the prestigious RNCM Gold Medal Soloist Competition in 2013, selected externally by the chairman of EMI records.  Prior to her studies at the Royal Northern College of Music, Jennifer studied music at the University of Manchester graduating in the 2011 where she majored in Performance, Composition and Shostakovich studies.
As a soloist, Jennifer has given recitals across the UK to great critical acclaim for many music societies and music series. She has performed various concertos with symphony, chamber and wind orchestra in the UK and abroad, including Ibert's flute concerto in 2015, Malcolm Arnold's 2nd flute concerto in the Malcolm Arnold Festival 2013 and Mozart's Flute and Harp Concerto with the All Saints Chamber Orchestra (2014).
Elinor Nicholson - Harp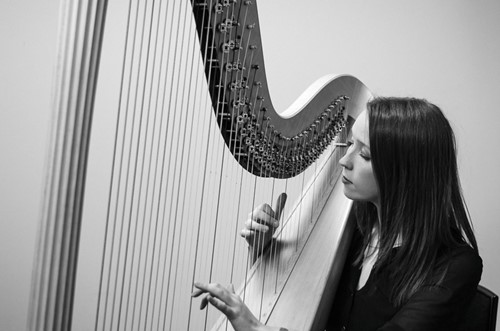 Scottish harpist Elinor Nicholson achieved a Bachelor of Music degree with first class honours from the Royal Northern College of Music and has recently completed a Masters of Music, continuing her studies with renowned harpist Eira Lynn Jones. In 2015, Elinor was a finalist in the RNCM's Gold Medal Competition, the highest award for solo performance that the college offers, and was also a finalist again in the 2016 competition. Most recently, Elinor was a finalist in the RNCM concerto competition, performing Debussy's Danse Sacree et Profane. Last year, Elinor gave the UK premiere of Paul Patterson's work Spider's Web, performing with the Maxwell Quartet.
Recent performances with RNCM ensembles include Elinor's Wigmore Hall debut performing works by British composer Jonathan Harvey and performing with the symphony orchestra at the Bridgewater Hall in Manchester. In 2013, Elinor was delighted to be accepted on to the BBC Philharmonic Orchestra's 'Professional Experience Scheme', which offered valuable training and performance experience in Media City with the orchestra.
In 2011 Elinor formed the Polaris saxophone and harp duo with saxophonist Gilly Blair and in 2012 they were selected to give the world premiere of Andy Scott's Sonata for Saxophone and Harp at the World Saxophone Congress in St Andrews. Most recently, the Polaris Duo was awarded the second prize in the inaugural British Harp Chamber Music Competition. Elinor's flute and harp duo, the Meridiem Duo, works for Yehudi Menuhin's ground-breaking scheme 'Live Music Now!', performing in community settings such as hospitals, schools for disabled children and elderly people.
Elinor is grateful to the Caird Trust, the Albert and Eugenie Frost Trust and the Countess of Munster Musical Trust who generously support Elinor's tuition at the RNCM.